Canopy Growth Corp (WEED, CGC) has been one of the best performing cannabis stocks in the world.
Shares of the world's largest cannabis company are up 560% in the last twelve months.
One of the reasons Canopy has been so successful is because of CEO Bruce Linton.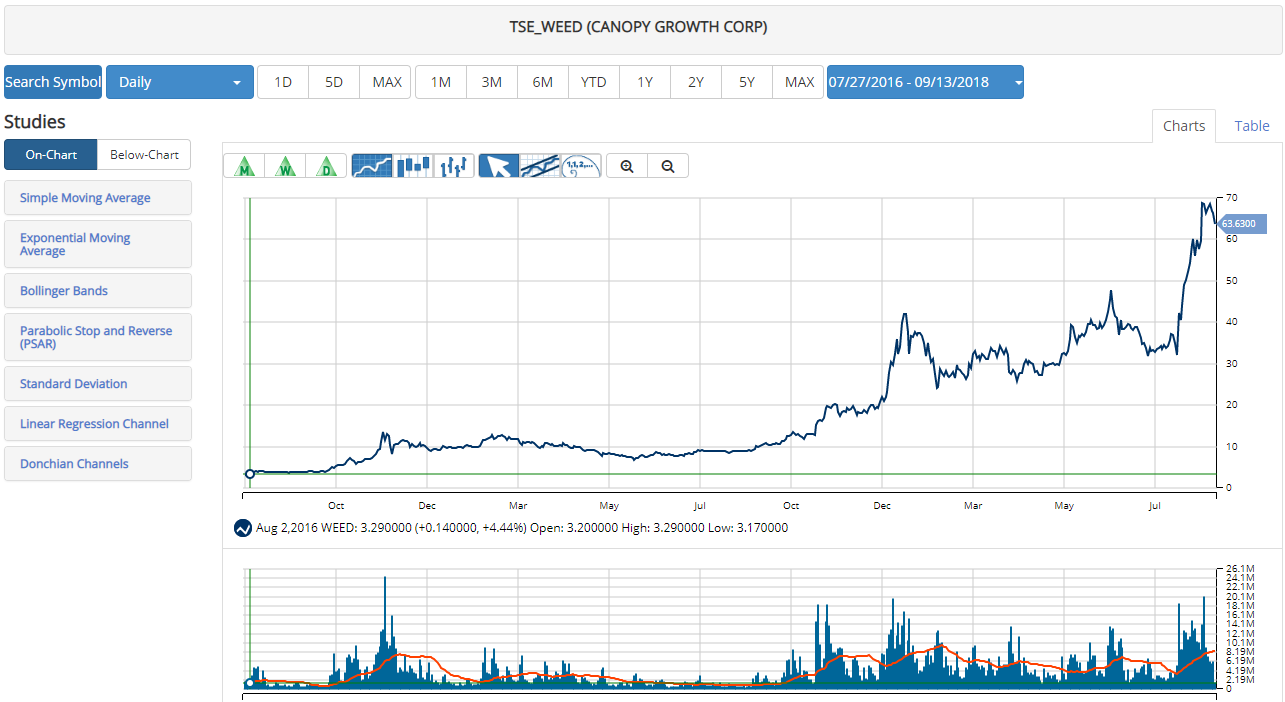 Linton has developed a reputation as one of the best CEOs in the young cannabis industry.
Not only does Linton have a bold vision for Canopy and the entire cannabis industry, he has a proven history of execution.
If you missed out on Canopy's big run higher don't worry – I see a new way to invest in Bruce Linton and his success with Canopy.
Canopy Rivers (RIV) is a cannabis investment company that is currently operating under the umbrella of Canopy.
Rivers uses a big pool of cash to invest in other cannabis companies – a lot like a cannabis mutual fund. But with some major perks.
In addition to buying shares of public cannabis companies, Rivers also invests in privately owned companies.
This creates a great opportunity because Rivers gets a chance to invest in some of the most promising cannabis companies in the industry before shares are available to the public on the stock exchange. Investing in these high-growth, early-stage cannabis companies can be extremely profitable.
Linton reinforced theses benefits in a recent press release.
"With Canopy Rivers, we are well-positioned to take advantage of the universe of investment opportunities unfolding globally in the ever-expanding cannabis economy," said Bruce Linton, Chairman and acting CEO of Canopy Rivers, and co-CEO of Canopy Growth. "The strategic relationship with Canopy Growth, strong management and access to capital will enable Canopy Rivers to build upon a proven track record and continue to develop a leading ecosystem of cannabis companies across the entire cannabis value chain."
With the global cannabis industry jumping higher in the last months, Rivers has been busy investing millions into the most promising young cannabis companies in the world.
Rivers has invested in a total of eleven domestic and international cannabis companies.
Here are a few more details on three of the companies in its portfolio.
Agripharm Corp.: Agripharm is an ACMPR licensed producer, acquired by Canopy Growth in January 2017. In November 2017 Agripharm completed a joint venture with globally recognized partners Green House Seeds and Organa Brands. Canopy Growth has sublicensed proprietary technology, trademarks, genetics, know-how and, other intellectual property from Agripharm to distribute the suite of Green House and Organa Brands products across the country, when permissible.
LiveWell Foods Canada Inc.: Established in 1993 as a nutritional lifestyle company, LiveWell Foods operates in the production of fresh produce and food technology. LiveWell entered into a strategic agreement with Canopy Rivers and Canopy Growth in April 2018. The company's O-Hemp division distributes bulk and retail hemp products through its existing channel partners.
James E. Wagner Cultivation Ltd.: Founded in 2007, James E. Wagner Cultivation Ltd. ("JWC") is a family business run by third generation agricultural and cannabis cultivators. Kitchener's only LP was issued a license to cultivate from Health Canada in January 2017 and a subsequent sales license in March 2018. JWC is the first entirely aeroponic producer of cannabis in Canada, and its patent-pending aeroponic production technology, called GrowthStorm, allows for perpetual harvesting and improved yields.
Here's a link to to the Rivers full portfolio: Canopy Rivers Company Portfolio
Rivers will have its own management team – a team that has proven success.
But Bruce Linton will be on the Board and act as a close advisor.
Canopy Rivers is Set to Start Trading on the Toronto Stock Exchange Next Week
Canopy is set to spin off Canopy Rivers next week as an independent company.
Shares are set to start trading on the Toronto Venture Stock Exchange under the ticker symbol RIV.
This could be a very exciting IPO. Investors have already shown a lot of interest in Rivers. On July 9 Rivers raised $104 million in a private offering.
I am expecting an equally strong interest in shares next week when they hit the exchange and become available to the public for the first time.
The Big Picture
Canopy is set to spin off Canopy Rivers next week in a highly anticipated IPO. This is another great way to invest in Canopy's industry leadership and CEO Bruce Linton's record as one of the best CEOs in the industry.
Enjoy,
The information contained in this post is for informational and educational purposes only. The trading ideas and stock selections represented on the Cannabis Stock Trades website are not tailored to your individual investment needs. Readers and members are advised to consult with their financial advisor before entering into any trade. Cannabis stocks carry a certain level of risk and we accept no responsibility for any potential losses. All trades, patterns, charts, systems, etc. discussed are for illustrative purposes only and not to be construed as specific advisory recommendations. All ideas and material presented are entirely those of the author and do not necessarily reflect those of the publisher.