Disney's Growth and Future Initiatives
Disney delivered solid Q3 FY2018 quarterly results as the company continues to be focused on future initiatives such as acquiring Twenty-First Century Fox assets and a major push into streaming with a majority stake in Hulu (60% ownership), ESPN Plus launch earlier this year and direct to consumer Disney branded streaming service coming in 2019. Disney's Q3 revenue and EPS grew by 7.3% and 18%, respectively year-over-year. Disney continues to deliver at the box office, and theme parks and its stock has finally broken out above the $110 level and appears to be consolidating above this level. Disney's brands are ubiquitous and providing long-lasting, durable revenue streams that transcend theme parks, toys, merchandise, movie franchises, streaming initiatives, Fox properties and international reach. Disney is closing the gap in streaming as Hulu grows rapidly and in the backdrop, ESPN+ and direct to consumer Disney branded streaming service matures and comes to fruition. Disney currently trades at a P/E of 14.1 while the average stock in the S&P 500 trades at 24.9 representing a 40% discount to the average stock. Disney has been growing its dividend over the years and currently yields 1.5% to bolster Disney's investment thesis further. Disney offers a compelling long-term investment opportunity considering the growth, Fox acquisition, pipeline, Media Networks remediation plan, diversity of its portfolio, tax reform, share repurchase program (on suspension) and dividend growth.
Disney's Q3 FY2018 Quarterly Results
Disney reported Q3 FY2018 EPS of $1.87 (18% year-over-year) and revenue of $15.23B (7.3% year-over-year). Revenue by segment came in via Media Networks, $6.16B (up 5%); Parks and Resorts, $5.19B (up 6%); Studio Entertainment, $2.88B (up 20%); Consumer Products & Interactive Media, $1B (down 8%). CEO Bob Iger directed his remarks mainly to the $71 billion Fox acquisition and Disney's streaming plans on the conference call. Disney's branded direct-to-consumer service is on track for a late-2019 launch, Iger said, adding he's encouraged by data showing many consumers are members of three different subscription video on demand products. Consumers are making "their own personalized mix of content," Iger stated. Regarding the Fox deal, "we're obviously thrilled with the results of the shareholder vote," Iger said. Roughly 10 minutes of voting secured approval from both companies' shareholders, and he looks forward to boosting Disney's international growth with Fox's portfolio (notably mentioning Sky, currently sitting on a higher bid from Comcast). Regarding Disney's streaming competition with Netflix, Iger said Disney's product "does not have to have anything close to the volume that Netflix has, because of the value of the brand." The price of the service will reflect the lower volume of content vs. a Netflix as well, he says. "We don't see a rush" because of the market's development, Iger says. "The only place to get original Disney, Star Wars product is this app, so whenever we launch, it will be attractive." Disney continues to deliver robust growth despite the overblown fears of its stalling Media Networks segment that has plagued the stock over the past two years. Given the backdrop of its growth initiatives and bringing in Fox's assets into the fold will provide durable and growing revenue streams for years to come.
Media Networks Remediation – Disney Betting Big On ESports
ESports has become a huge phenomenon all over the world where audiences watch others compete in video gaming. UC Irvine has come forth and is launching an official e-sports initiative, the first of its kind at a public research university. A state-of-the-art arena equipped with high-end gaming PCs, a stage for League of Legends competitions and a live webcasting studio will be constructed, and as many as ten academic scholarships will be offered to students on the team.
The studio behind League of Legends, Riot Games – has pledged its support for the eSports initiative and will work with UCI to offer a premium League of Legends gaming experience. "The UCI community is one of over 300 student-run gaming clubs we currently support," said Ramon Hermann, head of the collegiate program at Riot Games. "We're honored to work with UCI to create a permanent home for gamers on campus and hope this will inspire similar programs at colleges and universities across North America."
ESPN's recently launched ESPN+ streaming service is broadcasting live coverage of several League of Legends competitions. ESPN will stream the summer finals in September and then the League of Legends World Championship later in the fall. ESPN via e-sports will likely draw in more subscribers to its newly launched ESPN service. Riot Games says that the 2017 Leauge of Legends World Championship drew "80 million unique viewers tuning in for a single match." Fans of the game watched over 1.2 billion hours of video during the event. Riot and BAMTech, the division of Disney that built the technology behind ESPN+ signed a $300 million deal in 2016 to have BAMTech stream League of Legends competitions.
Recognizing this trend and increased popularity in eSports, ESPN signed a multi-year deal with Activision Blizzard (ATVI) for TV rights to the Overwatch eSports league. This deal brings the Overwatch League playoffs and finals to ABC, ESPN, ESPN 2 and Disney XD. ESPN and Disney network subscribers also will be able to stream the matches live on the ESPN App and DisneyNow. "The Overwatch League Grand Finals is by far our most comprehensive television distribution for an esports event over a single weekend: 10 total hours over four networks and three days," said Justin Connolly, a marketing vice president for Disney and ESPN Media Networks. It will mark the first time eSports have aired on ABC and the first time ESPN has carried the event in primetime. As previously mentioned, competitive gaming draws huge audiences, more than 360 million people watched a livestream of a 2017 "League of Legends" eSports competition.
For comparison purposes, 111 million people watched the 2017 Super Bowl and the 30 million for the NBA Finals. The Overwatch League is a global event, with teams from throughout Asia, Europe, and North America. The first team to win two best-of-five matches takes home the Overwatch League trophy. It also gets the lion's share of the $1.4 million Grand Finals prize pool. The esports league was built around the popular video game "Overwatch" from Activision's Blizzard Entertainment division. Disney has established great partnerships in this growing eSports segment (League of Legends and Overwatch) which may provide another untapped avenue of growth within its Media Networks segment as part of its overall remediation plan.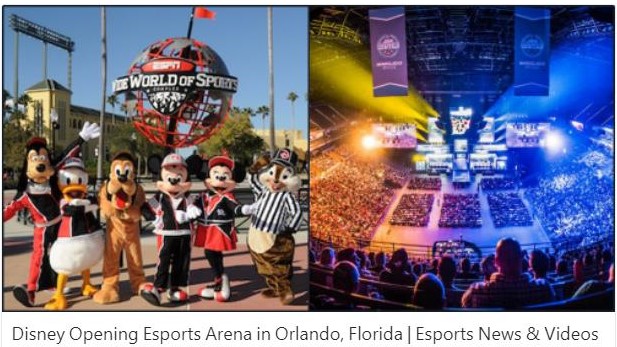 Figure 1 – Orlando, Florida Disney's opening of eSports arena to host eSports competitions
Disney's Box Office Dominance Continues
Disney has dominated the box office over a multi-year stretch due to successes across multiple brands such as Star Wars, Marvel, Pixar and Disney Animation releases. In 2016 and 2017 Disney's studio captured 26.3% and 21.8% of the market share, respectively based on domestic box office gross. Thus far in 2018, Disney's studio was the fastest ever to $1 billion in box office gross (117 days) and has captured over a third of the market at 33.7% market share.
Black Panther became the third highest grossing movie of all-time domestically with $700.06 million and ultimately grossing $1.346 billion worldwide and becoming the ninth highest grossing movie of all-time. Avengers: Infinity War became the fastest movie to gross over $1 billion worldwide and only the fourth movie to ever break through the $2 billion threshold ultimately grossing $679 million and $2.046 billion domestically and worldwide, respectively. The release of The Incredibles 2 shattered box office records during its opening weekend debut and grossed $600 million domestically and $1.15 billion worldwide.
Thus far, Disney has the top three grossing movies domestically with Black Panther and Avengers: Infinity War and Incredibles 2 by a wide margin from the fourth highest grossing movie. Ant-Man and the Wasp recently grossed $210 million domestically and $472 million worldwide. 2019 has highly anticipated releases that stand to haul in billions in box office receipts such as Captain Marvel (the first female lead for a Marvel film), Dumbo, Avengers 4, Aladdin, Toy Story 4, Lion King, Frozen 2 and Star Wars Episode 9. Disney is poised to defend its box office dominance through the remainder of 2018 and again in 2019.
Fox Acquisition Gains Approval
The Department of Justice approved the Disney's $71 billion acquisition for 21st Century Fox thwarting Comcast's (CMCSA) attempts for the Fox assets. The government's approval comes with conditions that Disney must divest all of Fox's 22 regional sports networks.
"Today's settlement will ensure that sports programming competition is preserved in the local markets where Disney and Fox compete for cable and satellite distribution," Makan Delrahim, the head the Justice Department's antitrust division, said in a statement.
Disney will acquire properties such as Avatar, the X-Men movies, Titanic and TV shows such as The Simpsons and This Is Us. The acquisition also gives Disney the cable networks FX and National Geographic; a controlling stake in the streaming service Hulu, which has more than 20 million subscribers; and Star, one of India's fastest growing media companies. The international television networks: the European TV operator Sky and Star India are growing and moving into streaming which Disney is heavily focused. Disney and Fox easily gained approval by shareholders on their $71.3 billion acquisition during the shareholder voting that was held in July.
Conclusion
Disney continues to be focused on future growth initiatives via the Twenty-First Century Fox acquisition, streaming via Hulu, ESPN Plus launch and direct to consumer Disney branded streaming service coming in late 2019. Disney's posted robust growth in its Q3 quarterly report and continues to deliver at the box office and theme parks with its Media Networks remediation plan in the backdrop. Disney has been delivering at the box office with major hits such as Blank Panther, Avengers: Infinity War and Incredibles 2. Disney has one of its biggest movie slates for coming in 2019 after a record-breaking 2018 thus far. The Fox acquisition brings in properties such as Avatar, the X-Men movies, Titanic and TV shows such as The Simpsons, cable networks FX and National Geographic; a controlling stake in the streaming service Hulu and Star, one of India's fastest growing media companies. Disney is an inexpensive stock currently trading at a P/E of 14.1 representing a 40% discount to the average stock. Disney offers a compelling long-term investment opportunity for long-term investing.
Noah Kiedrowski
INO.com Contributor
Disclosure: The author holds shares of Disney and is long Disney. The author has no business relationship with any companies mentioned in this article. He is not a professional financial advisor or tax professional. This article reflects his own opinions. This article is not intended to be a recommendation to buy or sell any stock or ETF mentioned. Kiedrowski is an individual investor who analyzes investment strategies and disseminates analyses. Kiedrowski encourages all investors to conduct their own research and due diligence prior to investing. Please feel free to comment and provide feedback, the author values all responses. The author is the founder of stockoptionsdad.com a venue created to share investing ideas and strategies with an emphasis on options trading.