Hello traders everywhere. The big news of the day is that crude oil is trading 2% higher on the day and at a new four-year high breaking through the $72 a barrel level. The jump in price is because Saudi Arabia and Russia ruled out any immediate increase in production despite calls by President Trump for action to raise global supply in a tweet on Thursday where Trump said the "OPEC monopoly must get prices down now."
Many analysts believe that the crude oil producers such as OPEC can't compensate for the for U.S. sanctions on Iran's exports. Even if they increase output by 500,000 bpd, the overall oil market will still fall short by about 1.5 million bpd that Iran was producing.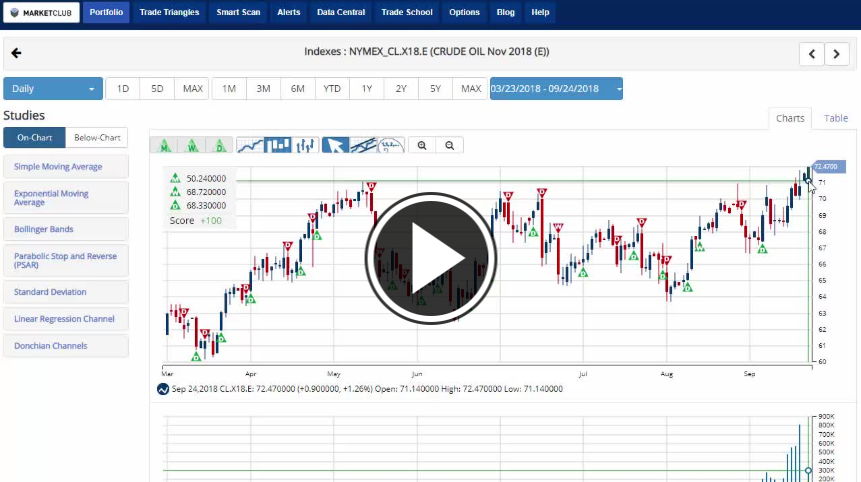 After setting new record highs the stock market ending last week on a weak note and that has continued into Monday. The reason? The trade war between the U.S. and China escalated with further tariffs and the cancellation of trade talks between the two countries.
The Wall Street Journal first reported late Friday that China had canceled talks with the U.S. on trade as both countries impose tariffs on billions of dollars worth of their goods. The two sides were set to meet to dial back tensions, but the Journal reported that China rescinded a proposal to send two delegations to Washington.
On Monday, a 10% U.S. levy on $200 billion worth of Chinese goods came into effect. The 10% rate is also set to rise to 25% by year-end. China has retaliated, targeting duties on more than 5,000 American goods worth a total of $60 billion.
Here are some key events coming up this week:
Japanese Prime Minister Shinzo Abe meets with President Donald Trump in New York to discuss trade.
The Fed decision on Wednesday will be followed by a press conference with Chairman Jerome Powell.
Thursday sees durable goods, GDP data and jobless claims for the U.S.
Key Levels To Watch Next Week:
Every Success,
Jeremy Lutz
INO.com and MarketClub.com