Hello traders everywhere. The S&P 500 and DOW both traded at record highs for the second straight day this week being propelled by the energy sector as crude oil prices continue to trade above $70 a barrel. Of the two indexes, it's bigger news that the DOW finally hit a new high, it's first since January of this year when it's compatriates have been consistently making new highs this year.
The Dow has risen in eight of the past nine trading sessions, with the most recent gains putting the index up 2.2% for the week, its best weekly stretch since July 13.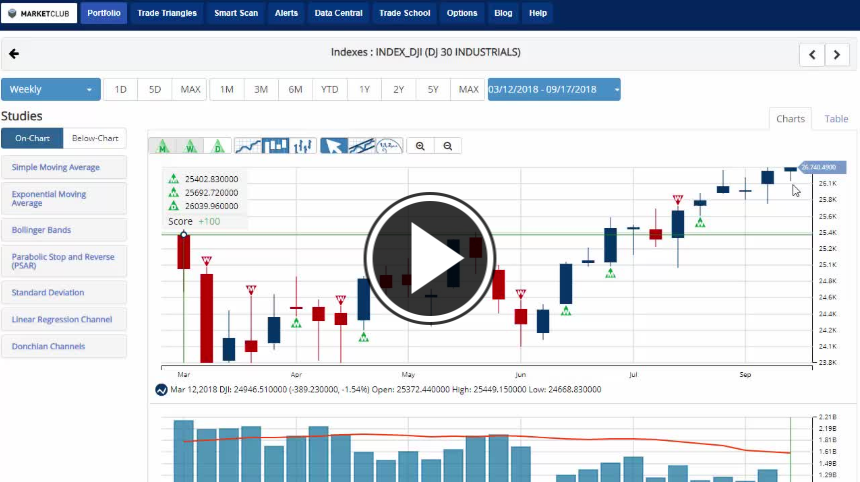 The S&P 500 is posting a +1% gain on the week the NASDAQ will barely post a weekly gain checking in with +.10%. For the second straight week, gold is relatively unchanged for the week while crude oil had a great week posting a +3.4% gain.
The U.S. dollar continues to be in a sidelines mode with a red weekly Trade Triangle on the board and looking to post its second weekly loss in a row standing at -.70%. Bitcoin finally gave us the red weekly Trade Triangle that we've been waiting for only to bounce higher and finish the week with a +2.9%. However, expect more volatility in the near-term.
Key Levels To Watch Next Week:

S&P 500 (CME:SP500): 2,864.12
Dow (INDEX:DJI): 25,754.32
NASDAQ (NASDAQ:COMP): 7,873.93
Gold (NYMEX:GC.Z18.E): 1,215.80
Crude Oil (NYMEX:CL.X18.E): 69.36
U.S. Dollar (NYBOT:DX.Z18.E): 95.28
Bitcoin (CME:BRTI): 7,403.53
Every Success,
Jeremy Lutz
INO.com and MarketClub.com