Hello traders everywhere. Happy Halloween! I hope that everyone has a safe and fun time with your friends and family. While the stock market currently has the best two-day gain since June of 2016 to close out October we need to remember that overall this has been a terrible month.
Even with the first back to back daily gains of October the S&P 500 will lose roughly 6.4% posting its first monthly loss in six months. -4.6% is the number for the DOW this month, while off the lows the month this is the first monthly loss in three months. The DOW is the only index of the three to have a green monthly Trade Triangle in play still, but our key level to watch is a touch higher at 24,122.23 where a red monthly Trade Triangle will trigger. The NASDAQ has suffered the most losing 8.6+ on the month, that will give the NASDAQ back to back losing months, which last occurred in March of this year.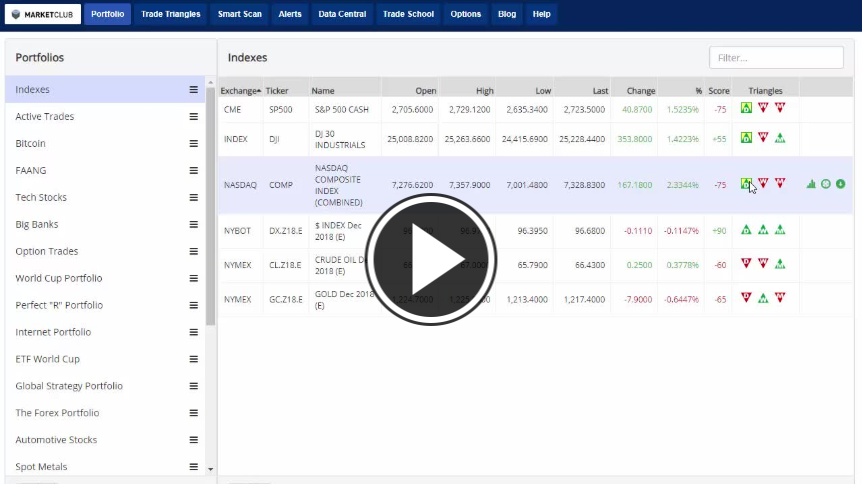 Of the instruments that I watch daily the U.S. dollar and gold the only two to have a positive month with the dollar gaining 2.2% and gold having its best month in eight months posting a gain of almost 2%. On the flip side, crude oil is having its worst month since 2015, losing nearly 10% on the month.
We'll wrap it up with Bitcoin, which is celebrating its 10th birthday today. However, it's not time to celebrate as Bitcoin is posting a 5.5% loss on the month, that'll be three losing months in a row. Is this the new normal for Bitcoin?
Key Levels To Watch This Week:
Every Success,
Jeremy Lutz
INO.com and MarketClub.com