Hello traders everywhere. For most of the year, the tech sector was the belle of the ball and the one sector that was driving the stock market to record highs. But this dance may be coming to an end as we enter the fall earnings season. The S&P 500 is poised to enter into correction territory joining the NASDAQ after earnings reports from Alphabet and Amazon fell short of expectations.
Amazon (AMZN) tumbled over 8% after it missed quarterly sales estimates and gave a below-par holiday-season sales forecast, that sparked a 3% plunge in the S&P consumer discretionary sector. Alphabet (GOOG) sank 4% after its revenue missed estimates, refreshing concerns that regulatory scrutiny and competition could slow down its scorching pace of growth.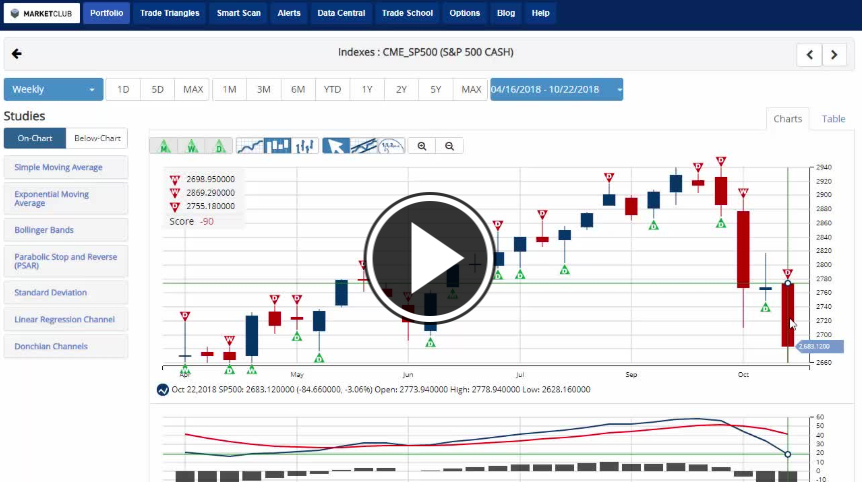 It's been quite a week for the major indexes with wild swings higher and lower, but at the end of the week, all three indexes are going to post deep losses and resuming the current downturn after a brief respite last week. The S&P 500 will post a weekly loss of -3.5%, the DOW -2.5% and not to be forgotten the NASDAQ will post a weekly loss of -3.2%.
The U.S. Dollar and gold continue to thrive in this tumultuous environment posting gains of .68% and .93% respectively. On the flip side, crude oil and Bitcoin will both post weekly losses of -2.4% and -.12%. Bitcoin is essentially trapped in a tight range while oil is taking heavy losses and succumbing to the pressure of trade wars, weakening emerging markets, currencies, and the strengthening U.S. dollar.
Key Levels To Watch Next Week:
Every Success,
Jeremy Lutz
INO.com and MarketClub.com