Hello traders everywhere. Overall the stock market was looking to finish out a strong week on a high note, but it was not be. Crude oil had other ideas and decided to spoil the party by doing something that it hasn't done since 1984, that's right, I said 1984. For the first time since 1984 oil will post ten straight losing sessions while suffering a drop of over 20% from the recent high and trading below $60 for the first time since March of this year.
Oil's move lower put a bit of a damper on the week for stocks, but overall the big three indexes will still spot weekly gains with the DOW leading the way with a gain of about +2.5% as I write. The S&P 500 checks in with a weekly gain of +1.6% and NASDAQ will still post an increase of +.30% as we head into the close.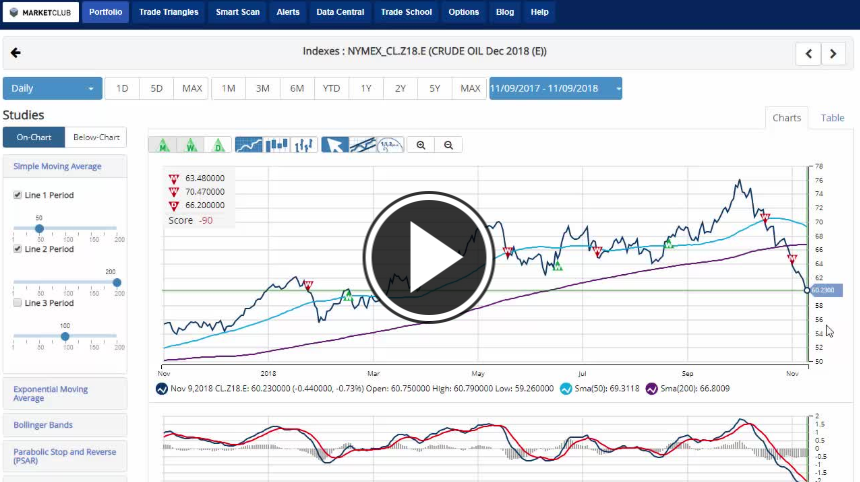 We also woke up to a surprise from gold, a new red weekly Triangle indicating that the intermediate-term trend has resumed its downward move changing the Chart Analysis Score to -100 and pushing gold down with a weekly loss -1.9% trading close to $1,200.00. On the flip slide, the U.S. dollar is still chugging along posting a weekly gain of +.43%. Meanwhile, Bitcoin continues to go nowhere and will post a weak increase of +.10% on for the week.
Key Levels To Watch Next Week:
Every Success,
Jeremy Lutz
INO.com and MarketClub.com