Editor's Note: Our experts here at INO.com cover a lot of investing topics and great stocks every week. To help you make sense of it all, every Wednesday we're going to pick one of those stocks and use Magnifi Personal to compare it with its peers or competitors. Here we go…
---
When markets turn as volatile and uncertain as they've been this week, it's a good idea to look for sectors you'd want to be invested in no matter where the markets go.
Healthcare is one such sector.
It encompasses two contrasting types of businesses. The first is boring, large-cap stocks in the pharmaceutical and healthcare services sectors. These traditionally provide some defensive qualities if the economy starts to slow. That's true because a lot of healthcare spending is not dependent on cycles in the economy. People get sick no matter the economy.
The more exciting part of the healthcare sector is very growth-oriented, with high valuation multiples. This is the biotechnology sector, with exciting fields like genomics, CRSPR gene-editing machines, and cures for cancer.
And even beyond biotech, there are also other growth segments in this healthcare sector, including medical data businesses and medical equipment suppliers. All of these are riding long-term trends such as aging and increased healthcare spending, along with big data and AI.
The safer pharma sector looks especially enticing for more conservative investors. Vincent Deluard, strategist at StoneX, has run numbers showing pharmaceuticals have maintained 15% to 20% margins over the past 40 years. He told the Financial Times: "They have almost no exposure to energy and basic material costs: their main expenses are research and development, marketing and lobbying… Inflation in drugs prices and medical services has been twice that of the broad consumer price index in the past 40 years."
But for the adventurous among you, putting money into the more exciting biotech small caps may be the way to go. Valuations are cheap, with a substantial upside.
So, I asked Magnifi Personal to compare an ETF from each healthcare segment - pharma and biotech. I didn't even have to find the right ETFs.
All I had to do was ask Magnifi Personal to "Compare pharma to biotech" and the investing AI helpfully picked the two largest ETFs in each sector, based on total assets: VanEck Pharmaceutical ETF (PPH) and iShares Biotechnology ETF (IBB).
To have the Magnifi Personal investing AI do this for you, ask it for more details, or expand the search by asking something like "Compare pharma to energy," just click here to start a 90-day free trial!
This ability to have an investing AI pore over reams of data for you in seconds and spit out an easy-to-understand comparison of two or more stocks is an invaluable tool in deciding where to invest next.
We highly recommend you try it out. Click here to see how.
Here's what Magnifi Personal showed me after I typed in "Compare pharma to biotech":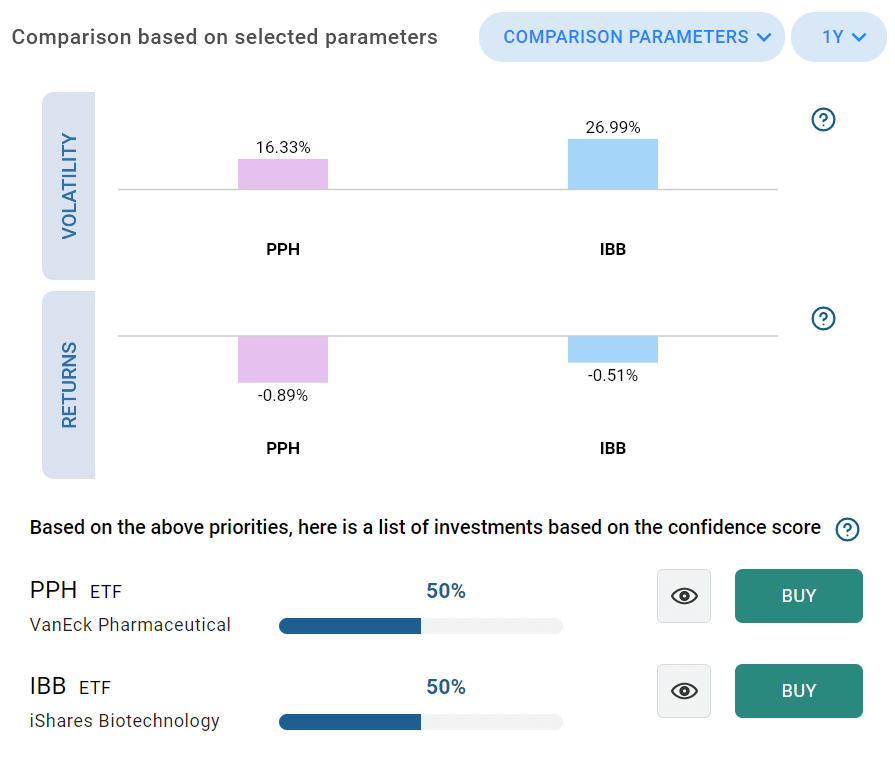 This is an example of a response using Magnifi Personal. This image is not a recommendation or individual advice. Please see bottom disclaimer for additional information, including INO's relationship with Magnifi.
As you can see, on the short one-year time frame, the two ETFs come out equal. Pharma is less volatile, but also has lower returns than biotech.
This is just a starting point, of course. Magnifi Personal can easily compare the two ETFs on more criteria, such as dividend payments, turnover, how large the ETFs are, and so on.
Explore all the options, or have the Magnifi Personal investing AI start a new research journey for you by clicking here to start a 90-day free trial!
To get a clearer picture of how pharmaceuticals compare to biotech, I asked Magnifi Personal to expand the timeframe from one year to three years. The results are pretty clear: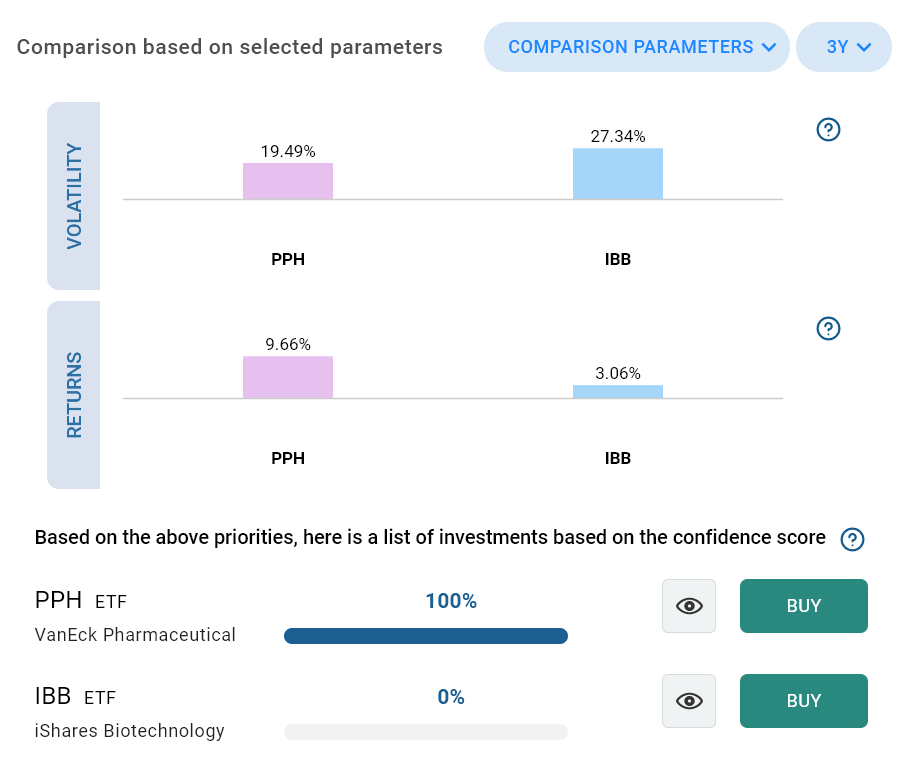 This is an example of a response using Magnifi Personal. This image is not a recommendation or individual advice. Please see bottom disclaimer for additional information, including INO's relationship with Magnifi.
Over the course of the pandemic, pharma stocks have generated higher returns with less volatility than the more speculative biotech stocks. With uncertain times ahead, the same might be happening going forward.
Magnifi Personal makes research like this as simple as typing a question. You can easily do this yourself, or ask Magnifi Personal to add other measures to the comparison, including dividend, valuation metrics such as P/E or P/B ratios, gross margin, and more. Just click here to see how to set up your Magnifi Personal account!
Latest from Magnifi Learn: In today's volatile market, every investor's nest egg is on the line, so it's no surprise that 80 percent of Americans believe that personalized advice will help them meet their financial goals. Because they don't just want DIY instructions, AI could be the key to unlock their goals.
---
INO.com, a division of TIFIN Group LLC, is affiliated with Magnifi via common ownership. INO.com will receive cash compensation for referrals of clients who open accounts with Magnifi.
Magnifi LLC does not charge advisory fees or transaction fees for non-managed accounts. Clients who elect to have Magnifi LLC manage all or a portion of their account will be charged an advisory fee. Magnifi LLC receives compensation from product sponsors related to recommendations. Other fees and charges may apply.
Diversification does not guarantee a profit or protect against a loss in a declining market. It is a method used to help manage investment risk.
Mutual Funds and Exchange Traded Funds (ETFs) are sold by prospectus. Please consider the investment objectives, risks, charges, and expenses carefully before investing. The prospectus, which contains this and other information about the investment company, can be obtained from the Fund Company or your financial professional. Be sure to read the prospectus carefully before deciding whether to invest.