It's difficult to imagine that this energy commodity could offer a promising opportunity for profit when you observe its performance across different timeframes, including yearly, half-yearly, and even year-to-date. Below is a chart displaying its performance over the course of one year.
Natural gas futures have performed the worst among all commodities on the mentioned timeframes, losing 73% of their price in one year. They are almost double the percentage loss of the next worst-performing commodity, oats futures.
The chart below sheds light on the poor performance of natural gas futures.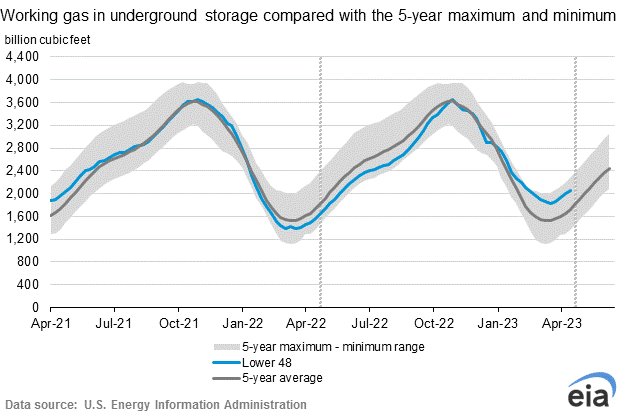 Source: U.S. Energy Information Administration
Note: The shaded area indicates the range between the historical minimum and maximum values for the weekly series from 2018 through 2022. The dashed vertical lines indicate current and year-ago weekly periods.
The blue line on the chart represents the current level of working gas in storage for natural gas futures, which stands at 2,063 billion cubic feet (Bcf). This is close to a 5-year high and well above both the 5-year average (gray line, 1,722 Bcf) and last year's reading of 1,556 Bcf.
This outcome is the result of misbalance in the market.

Source: U.S. Energy Information Administration
The volume of U.S. Natural Gas Marketed Production in February was 3,084,913 million cubic feet compared to 2,959,454 million cubic feet of U.S. Natural Gas Total Consumption. This excess in the market is bearish for natural gas.
Let us jump to a technical chart where I spotted a pattern that promises an opportunity.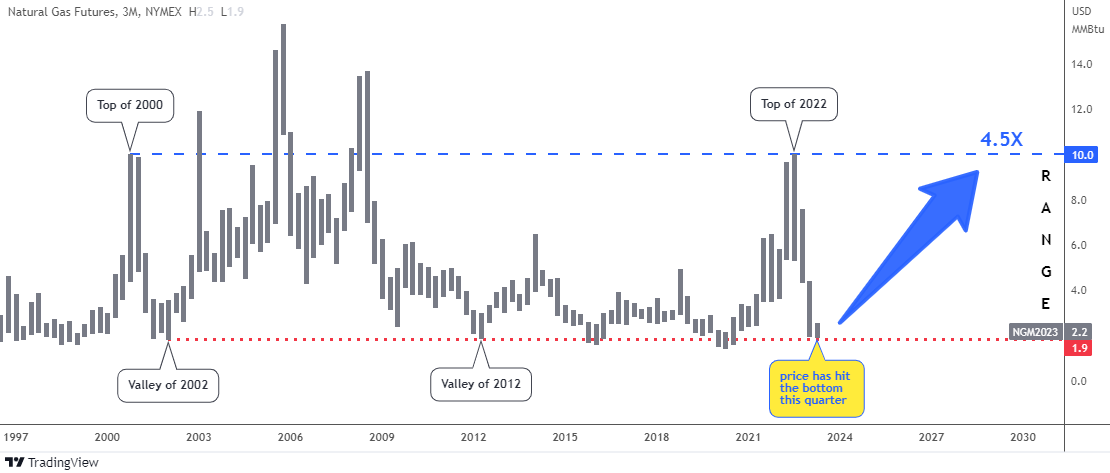 Source: TradingView
The idea behind this opportunity is straightforward. The quarterly chart above shows a significant range established at the start of this century, with the top of 2000 at $10 and the bottom of 2002 at $1.9.
Over the past 22 years, the price has reached or even exceeded the ceiling four times, with the last being last year at precisely $10. The bottom for the same period has been touched four times as well, with the last one being this quarter exactly at $1.9.
This could signal a significant profit potential, as the target at the peak of the range at $10 is 4.5 times the current price of $2.2.
The market price remains low due to bearish fundamentals, but there is a bullish alert to consider. The winter heating season data shows consumption for electric power generation, as depicted in the chart below.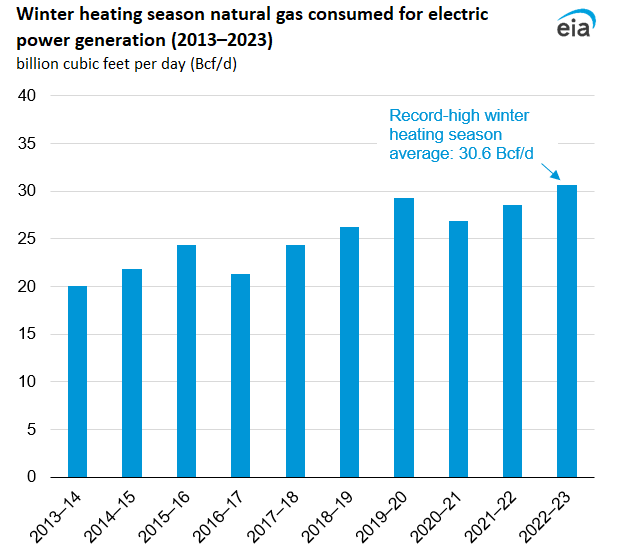 Source: U.S. Energy Information Administration
According to U.S. Energy Information Administration, "Natural gas consumed for electric power generation in the United States during the 2022–2023 winter heating season (November 1–March 31) averaged 30.6 billion cubic feet per day (Bcf/d), the highest winter heating season average on record, based on data from S&P Global Commodity Insights. Natural gas consumed for electric power generation has increased most winter heating seasons since 2016–2017 with the continued reductions in coal-fired electricity generation and the overall growth in electricity demand."
Although natural gas is a fossil fuel, it is considered a cleaner energy source compared to coal, which makes it a preferred choice for many countries. This is a bullish factor for natural gas.
Additionally, abnormal cold weather during recent winter seasons has led to increased demand for heating, which could prompt buyers to stockpile natural gas at relatively cheap prices ahead of the new heating season.
Another factor contributing to the volatility of natural gas prices is recent geopolitical events, which have forced Europe to search for alternative supply sources of energy to replace Russian gas, with some turning to American liquefied natural gas (LNG) as an option. This process is still ongoing and could lead to further volatility in the price of natural gas this year.

Loading ...
Intelligent trades!
Aibek Burabayev
INO.com Contributor
Disclosure: This contributor has no positions in any stocks mentioned in this article. This article is the opinion of the contributor themselves. The above is a matter of opinion provided for general information purposes only and is not intended as investment advice. This contributor is not receiving compensation (other than from INO.com) for their opinion.