In case you missed it yesterday, Alibaba Group Holding Limited (NYSE:BABA), took a 5% position in Groupon Inc. (NASDAQ:GRPN) which was enough to push this stock up 40%. Yesterday's action by Alibaba was seen as a black swan event that could not be predicted by any indicator. Groupon had been in a steady decline after hitting a peak of over $27 when it began trading. Since that time, the stock has steadily moved lower and recently traded perilously close to the $2 level.
As I have said many times before, perception is very important in stocks. The fact that Alibaba took a 5% stake in this company should not be overlooked.
Technically speaking all of the Trade Triangles turned green and positive yesterday for the first time in a long, long time. You also saw a 12 month downtrend line broken to the upside which also helped change Groupon's momentum.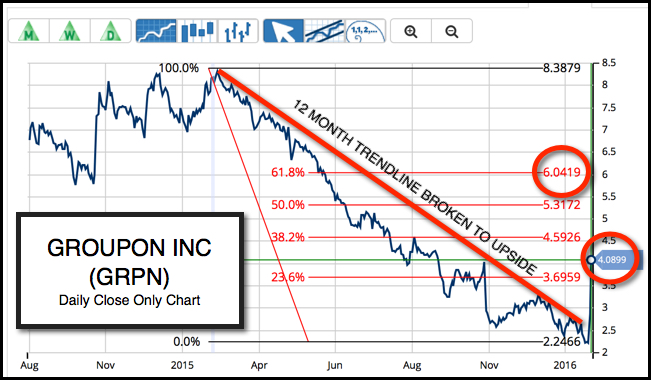 With all of these positives happening to Groupon, how high can this stock go? Continue reading "This Stock Could Appreciate 50% In The Next 6 To 12 Months" →