The Energy Information Administration reported that May U.S. crude oil production averaged 10.442 million barrels per day (mmbd), off 30,000 b/d from April's all-time record high of 10.472 mmbd.
However, May's production was also lower than 10.461 mmbd posted for March. From December through March, production had spiked by 423,000 b/d.
Part of the explanation for the lack of continued growth is the unplanned maintenance in the Gulf of Mexico. Last month, GOM production dropped by 75,000 b/d. In April, it had declined by 99,000 b/d. In EIA's Short-Term Energy Outlook, May's GOM production was forecast to increase by 200,000 b/d from April.
Otherwise, increases in North Dakota (25,000 b/d) and in Texas (20,000 b/d) were also relatively modest.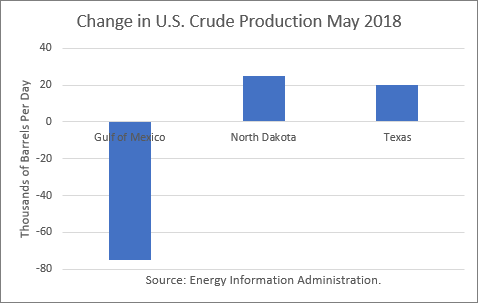 The EIA-914 Petroleum Supply Monthly (PSM) figure was 304,000 b/d lower than the weekly data reported by EIA in the Weekly Petroleum Supply Report (WPSR), averaged over the month, of 10.706 mmbd. EIA's most recent weekly estimate for the week ending July 27th was 11.0 mmbd. Continue reading "U.S. Crude Oil Production Slowed in May" →