Last month I updated the Bitcoin chart after this cryptocurrency made a buzz at the end of the June pushing through $13,000. In the same post, I shared with you the 4-hour chart where the horizontal consolidation had been spotted. The Bitcoin price was at the $11,500 level then, and I expected it to drop lower to complete the correction.
Let's see below what you were waiting for Bitcoin then.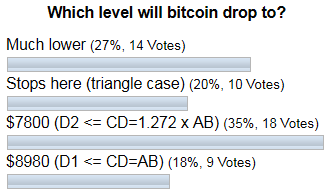 The majority of you expected Bitcoin to drop to the $7,800. Bitcoin haters were second to see head much lower. And the fans were in the third place with an immediate reversal option (stops here).
So far the least liked option of CD=AB at the $8,980 was the most accurate prediction as the Bitcoin indeed dropped lower but only to the $9,071. I think that time emotions were above the calm mind as the 5-digit price tag of the crypto spurred both euphoria and hatred as opinions were divided. Continue reading "Bitcoin Is Running Out Of Time" →