Much like actors and actresses in Hollywood, certain stocks seem to dominate the headlines regardless of whether it's good or bad news. Meanwhile, less known names are outperforming their superstar counterparts yet continue to operate in relative obscurity.
Value investors love finding these stealthy bullish stocks. The less known it is, the more likely it is that it's been undervalued.
A disruptor that's defying gravity
Outerwall (OUTR) is a $1.55 billion specialty retailer that has an interesting story to tell to investors. The company is known for its brand name Redbox and Coinstar machines and along with its competitor Netflix (NFLX), is responsible for revolutionizing the way consumers rent movies and watch television. Outerwall has more than 66,000 kiosks across the U.S., Canada, Ireland and the U.K.
In the past year, the stock has gained nearly 54% and has done well so far this year as well – up 12.5%.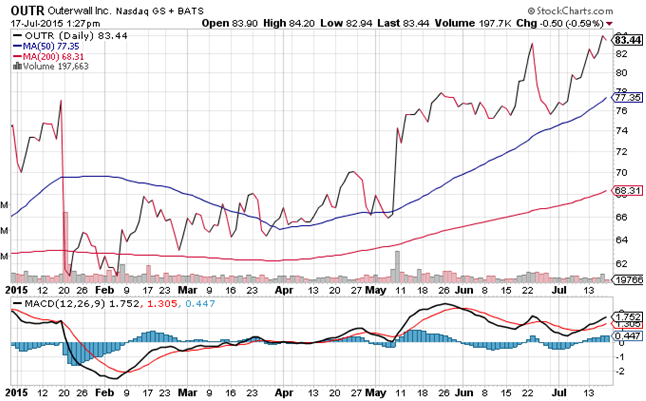 Chart courtesy of StockCharts.com
Taking a closer look at the chart, we can see that the 50-day moving average has been above the 200-day all year long and now appears to be pulling away at a rapid rate. This momentum is evidenced by its MACD, which indicates a strong upward trend in the stock right now. Continue reading "This Specialty Retailer Has Been Quietly Beating The Market All Year" →