It looks like we can name the top beneficiary of Mr. Trump's win.
Chart 1. 1-Month Futures Relative Performance: Copper Is Unrivaled As Trump Favors Infrastructure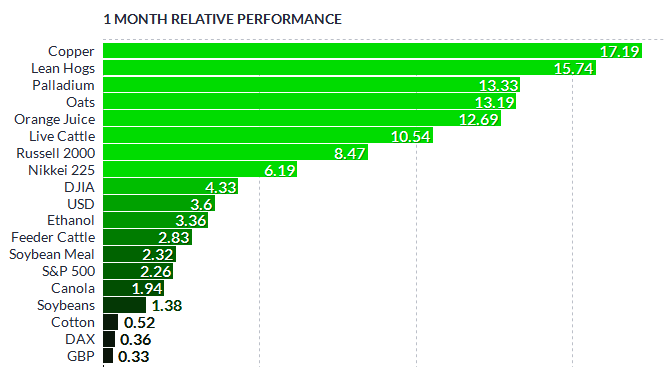 Chart courtesy of finviz.com
It's amazing that the ultimate gainer during the final election period is the metal, not the stock index or currency. Besides that in the top three, there is another metal – palladium, which is also an industrial metal (used in catalyst for the automotive industry). In the past month, which was hot and dramatic, copper topped the ranking with a +17% gain as the U.S. dollar only scored a +4% gain and the S&P 500 scored even less with a +2% gain.
I think that every shift in the White House gives people hope for positive change. Copper buyers are hoping that the new president will fix the country's aging infrastructure system, which requires an enormous amount of copper and other industrial metals to be procured. "Rebuild the country's infrastructure; nobody can do that like me, believe me," he said. Giant projects require huge expenses; Mr. Trump pledged to spend up to $500bn upgrading roads, railways, airports and bridges across the US. That's it; it was enough for the speculators, mainly from China, to lift the price of the metal.
Is this euphoria going to continue? Let's look at the chart below for answers. Continue reading "Copper Has Exploded With Trump's Win" →