Oklahoma is showing the rest of the U.S. how to run the medical cannabis industry. This southern U.S. state has surprised many analysts, quickly growing into one of the largest and fastest-growing medical cannabis markets in the country.
Oklahoma is on pace to do $1 billion in cannabis sales in 2021 and is reporting record sales in each of the last two months.
Here are some more details from mjbizdaily.com.
Already one of the largest and fastest-growing markets in the country, Oklahoma's medical marijuana industry broke sales records in both April and May as consumers stocked up on products amid the coronavirus pandemic.

In April, sales in Oklahoma shot up to $61.5 million, a 21% increase from March.

Sales rose again in May to reach nearly $74 million – a monthly figure that far exceeds that of adult-use markets in Illinois, Massachusetts, Michigan and Nevada.

With more than $275 million in MMJ sales in 2020 to date, Oklahoma's market could easily eclipse $700 million by the end of the year – in the same ballpark as more populous states such as Arizona and Florida.

Patients continued to enroll in Oklahoma's medical cannabis program throughout the COVID-19 crisis – rising from roughly 272,000 in March to 297,000 by the end of May – though the recent monthly sales gains were driven by additional spending from existing patients.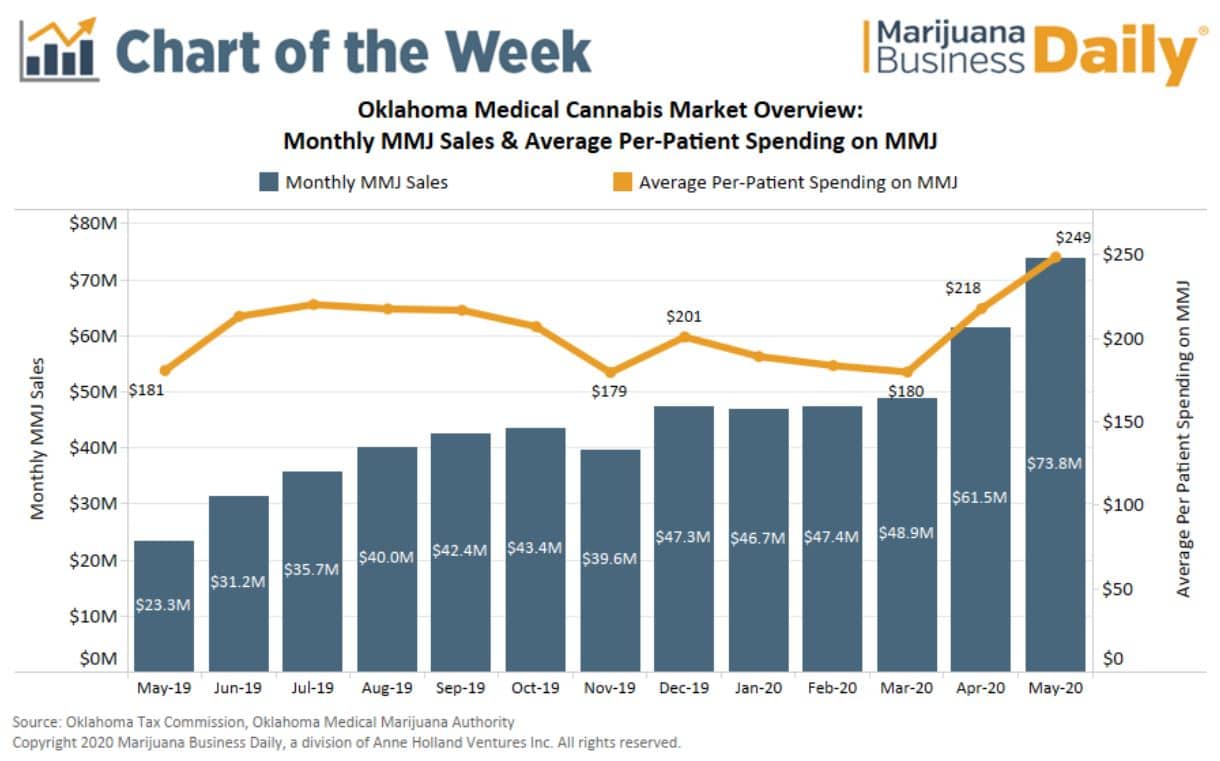 Looking forward, I expect Oklahoma's cannabis market to grow at a rapid pace. Continue reading "Oklahoma Medical Cannabis Sales Outperform" →