Have you ever had just one of those trade? You know, the kind of trade that looks like a dream come true, but then all of a sudden starts to shift, morph and turns into a nightmare? As Adam Hewison, (president of INO.com) likes to say, "A bad trade is like a dead fish: The longer you keep it the worse it stinks." There is one INO TV author that explains what to do when you are caught in a "stinky" situation. Ron Ianieri would tell you that the answer is to morph. Morphing is the process in which the wrong position is quickly and efficiently changed into the right position by simply adding or subtracting from the current position based on an understanding of synthetic positions. Used by professional floor traders, this method helps manage positions in relation to movements in stock price, time and volatility.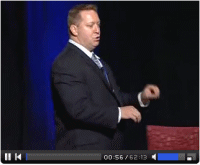 Ron started his career on the floor of the Philadelphia Stock Exchange working on the Foreign Currency Options Floor just after the crash of '87. After two years he moved to the Equity Options Floor and was trained in option theory by well known technical and analytical traders Cooper, Neff and Associates. Ron then joined TFM Investment Group where he served as the Option Specialist in Dell Computer during the early 1990's at a time when DELL was one of the busiest option books in the US. During this period, Ron began to develop his highly respected Option Tradero Trainee Course. He later became a manager at a large, fast growing specialist unit, Gateway Partners, where he was an integral part of their expansion.
Currently, Ianieri is the chief options strategist and co-founder of The Options University.

We welcome you to watch Ianieri's 90-minute seminar, "The Art of Morphing" at no charge by visiting INO TV Free.
After you watch this seminar please tell us what you think by emailing [email protected].
Enjoy,
Lindsay Thompson
Director of New Business Development
INO.com