There's been a huge global push for technological advancement for decades and it doesn't show any sign of slowing up. Beginning with Alan Turing, the creator of what became the modern computer to Bill Gates, the man who made the personal computer a ubiquitous household item, comes a new name: Elon Musk.
This innovator started off as co-founder of PayPal, an online payments system that's come to be accepted at virtually every online retailer. From that success, Musk has come to be associated with a number of technologically innovative companies like Tesla, SolarCity, and SpaceX.
Despite launching an electric car company -- something that had never had widespread success with other car manufacturers -- in an already saturated automotive market, Tesla has become the poster company for breakthrough technologies.
Electric car sales are exploding worldwide. From 2014 to 2015, the total number of electric cars on the road doubled and has now topped 1.3 million. Bloomberg New Energy Finance estimates that sales of electric vehicles will soar to 41 million by 2040 and make up around 35% of all light vehicle sales. While the US is currently in the lead with over 400,000 electric vehicles on the road according to the Centre for Solar Energy and Hydrogen Research Baden-Württemberg (ZSW), the rest of the world is blazing forward with more and more investment into sustainable technologies.
The Name Brand For Innovation
Tesla Motors (NASDAQ:TSLA) is a $26 billion electric auto manufacturer with vehicles on the road in over 30 countries. The company has a variety of vehicles available including a new crossover that has just been put into production. The company is a bit misleading however, although it does manufacture electric cars, the companies real value is its breakthrough lithium-ion battery technology.
Building on the company's battery technology, Tesla is constructing a gigafactory in Nevada that by 2020, will produce more lithium ion cells than the entire world's output in 2013. Battery life prior to Tesla was limiting for electric vehicles preventing them from gaining a foothold in the automotive industry, but new technologies have now expanded that range to more than 200 miles and is expected to increase in future years.
Despite Musk's penchant for innovation, Tesla's stock is one of the more heavily shorted with a short float of more than 30%. This makes the stock unusually volatile with a history of sharp ups and downs. Just take a look at its chart.
Notice the sudden dip and subsequent rise in February. While the 20-day moving average has fallen below the 50-day, it's beginning to mount a comeback – a possible bullish sign. Along with the positive MACD, this stock appears to have room to run.
Tesla isn't cash flow positive right now so it's difficult to place a hard value on it, but the company is expected to have positive earnings in the next 12 months. Over the past four quarters, Tesla has beaten estimates twice, but missed them twice as well.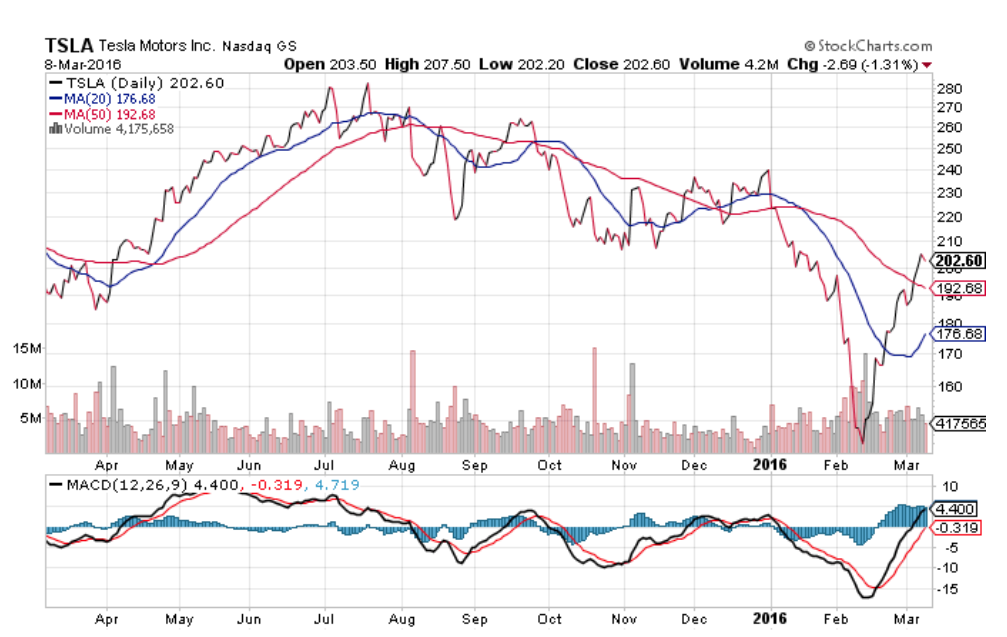 As a volatile stock with volatile earnings, Tesla is a risky investment but comes with a high potential payoff. Based on next year's earnings and analyst price projections, this stock could be fairly valued at around $232 – a 15% gain.
Check back to see my next post!
Best,
Daniel Cross
INO.com Contributor - Equities
Disclosure: This contributor does not own any stocks mentioned in this article. This article is the opinion of the contributor themselves. The above is a matter of opinion provided for general information purposes only and is not intended as investment advice. This contributor is not receiving compensation (other than from INO.com) for their opinion.