One of the many things I enjoy about MarketClub is interacting with our members and discussing the markets. One of our members recently asked about the coffee market and what I thought about it.
"Would love to see your analysis of coffee as a special situation. Know it is currently in a pullback. Monthly is still green. Sounds like the shortage is expected to continue and increase. That should mean prices will go even higher. The question is where to get back in. I have been using the ETF JO to play it. Have had a good run with in and outs following TT's, RSI, and other. Expect we could all benefit from a right time buy and proper trailing stop and just following it for a while?"
As you can see, Harold is pretty smart investor and a valued member of MarketClub. He's also taken some nice profits out of the coffee market.
So without further ado, here are my thoughts on the July Coffee (NYMEX:KT.N14.E) market. Now remember, Harold is trading the ETF Ipath DJ-UBS Coffee Trust Sub-Index (PACF:JO). This ETF pretty much mimics what the coffee market is doing.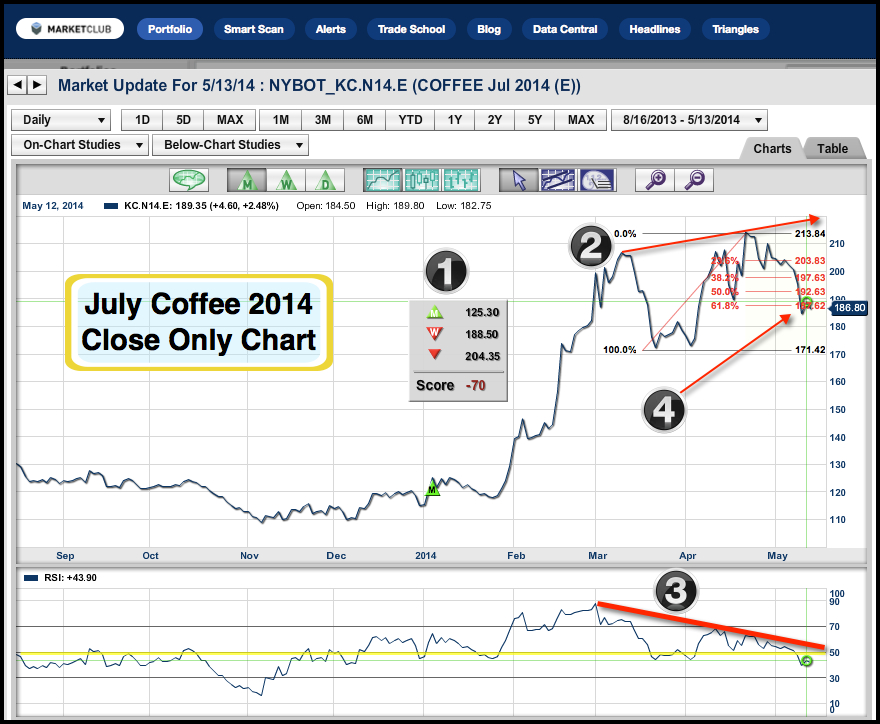 Chart Code
1. Trade Triangles
2. Price negative divergence
3. RSI negative divergence
4. Fibonacci support area
When trading in the futures markets, we are relying on the weekly Trade Triangle for the trend and the daily Trade Triangles for timing. It's also important not to forget the monthly Trade Triangle, as it shows the longer-term trend. Continue reading "What's Brewing In The Coffee Market?" →