The Energy Information Administration released its Short-Term Energy Outlook for March, and it shows that OECD oil inventories likely bottomed last June 2018 at 2.802 billion barrels. It estimated stocks dipped by 5 million barrels in February to end at 2.914 billion, 44 million barrels higher than a year ago.
For 2020, OECD inventories are projected to build by 137 million barrels to 3.031 billion. For 2021 it forecasts that stocks will draw by 48 million barrels to end the year at 2.983 billion.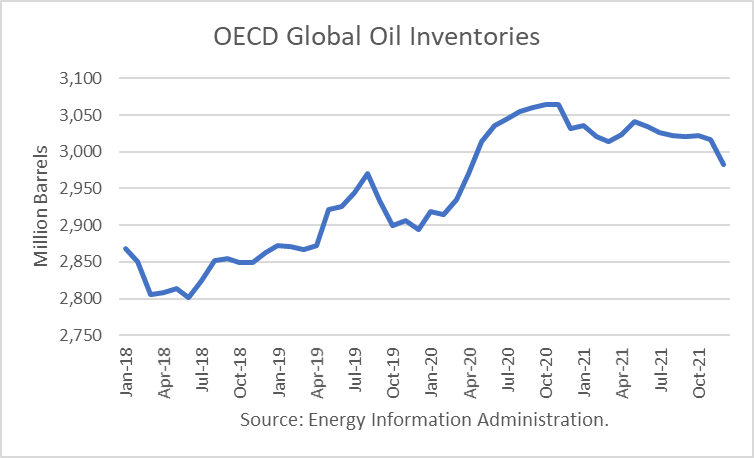 The EIA estimated that OPEC production dropped by 72,000 b/d in February to 28.49 million barrels per day. For 2020, it estimates that OPEC production will average about 29.08 million, about 720,000 b/d lower than in 2019. For 2021, it estimates OPEC production average 2.941 million. The EIA did not increase its estimates for OPEC despite the announcements by Saudi Arabia that it is pushing its production up to 12 million barrels per day and the UAE is increasing its production by 1 million barrels per day.
Oil Price Implications
I updated my linear regression between OECD oil inventories and WTI crude oil prices for the period 2010 through 2019. As expected, there are periods where the price deviates greatly from the regression model. But overall, the model provides a reasonably high r-square result of 79 percent. Continue reading "World Oil Supply And Price Outlook, March 2020" →