Leading restaurant chain operator BJ's Restaurants, Inc. (BJRI) operates more than 213 restaurants in 29 states.
The company's impressive third-quarter sales reflect the progress of its sales-building initiatives and its guests' strong affinity for the brand.
BJRI's comparable restaurant sales increased by 8.9% and 8.2% compared to the third quarters of 2021 and 2019, respectively. While restaurant-level operating margins were impacted by inflationary pressures, they benefited from labor management efficiencies and early successes of its margin improvement initiative.
"Our sales performance has continued into October with period-to-date comparable restaurant sales increasing approximately 8% and 6% compared to the same periods in 2021 and 2019, respectively," said Greg Levin, BJRI's CEO and President.
Moreover, BJRI's operating stability, sales building, and margin improvement positioned it to opportunistically return capital to shareholders through share repurchases in the third quarter. During the third quarter, BJRI repurchased and retired nearly 91,000 shares of its common stock for approximately $2.4 million. The company has $22.1 million available under its currently authorized share repurchase program.
Furthermore, BJRI's long-term target remains to operate at least 425 domestic locations. The company recently announced opening its restaurant in North Las Vegas, Nevada. This restaurant is BJRI's fifth restaurant in the Las Vegas area and its seventh restaurant in the state of Nevada.
"We are on track to open our sixth and last restaurant of the year next month in Phoenix, Arizona," said Greg Levin. Additionally, BJRI's restaurant model initiative continues to deliver strong sales growth and financial returns by adding seating capacity and enhancing its bar statement. The company plans to increase its remodel initiative to more restaurants in 2023.
Shares of BJRI have gained 39.9% over the past six months. The stock is currently trading above its 50-day and 200-day moving averages of $28.25 and $26.71, respectively.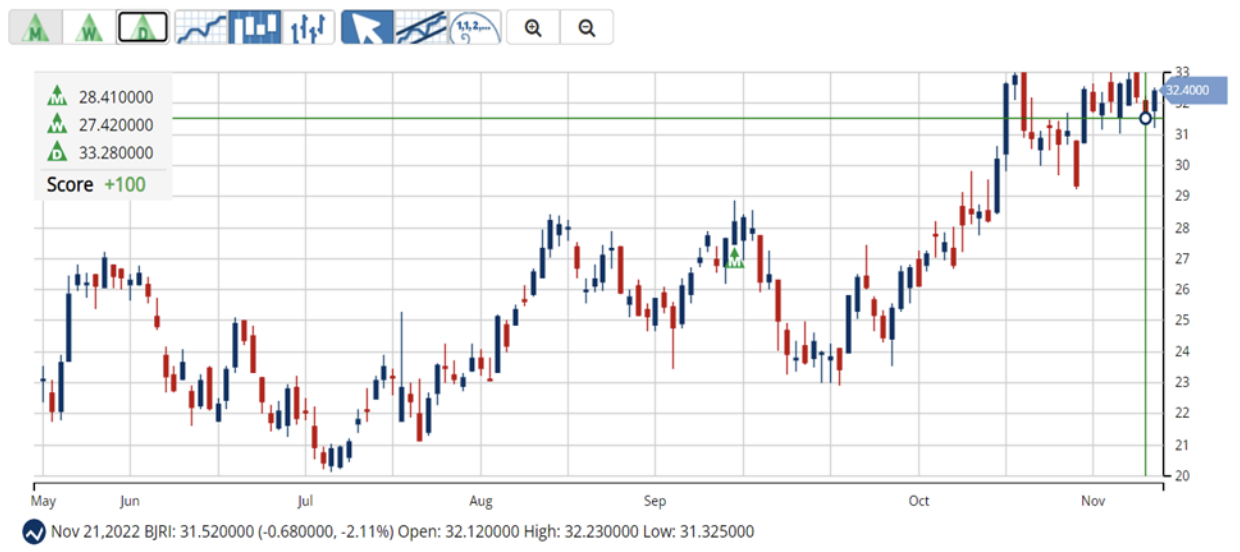 Source: MarketClub
Continue reading "Should You Buy This Restaurant Stock Right Now?" →