Adam Hewison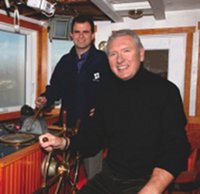 J. Adam Hewison is president emeritus and a founder of INO.com, Inc. In his own words, his mission at INO has been to create the best, free Internet service for futures and options traders worldwide.
For more than 20 years before starting INO in March, 1995, Hewison was a foreign exchange trader and advisor. He was one of the first currency futures traders when the CME's International Monetary Market (IMM) pioneered these markets during the 1970s, and in the 1980s he introduced a very popular daily fax advisory service, FXPro. He is also the author of two highly-acclaimed guides to the forex markets: International Monetary Report and Right on the Money, the Definitive Guide to Forecasting Foreign Exchange Rates.

In addition to an IMM membership, Hewison held seats on the CME's Index and Options Market (IOM), and was a charter member of the New York Futures Exchange (NYFE) and the London International Financial Futures and Options Exchange (LIFFE). Also during his trading career, he managed the currency and risk exposure of a large multinational corporation, based in Geneva, Switzerland, and formed The Rich Financial Group, Inc., a Commodity Trading Advisory (CTA) firm with offices in Maryland.
Quotes
Equities
Forex
Futures
Analysis
Resources
Help