Email sponsorships are a hot commodity here at INO.com. We are almost sold out of our placements for October, but we have a few open dates left! These will be sold on a first come, first serve basis.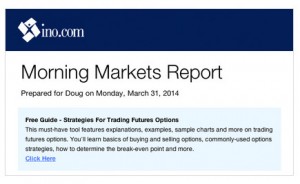 Open Dates for Daily Market Commentary & Analysis Email: October 6, 27 & 31
These emails are sent out to over 100,000 traders by request. This morning and evening email share key events to watch for, examine charting setups, and provide commentary and analysis on a number of markets.
The advertiser message is prominently displayed at the top and middle of the email.
The secure one of these dates, please contact me!
Best,


Bob Fladung
Director of Advertising
INO.com, Inc.