As we used to say in the pits of Chicago, "This is going to get ugly."
Today, we confirmed that "Ugly" has arrived.
Trade update: We exited long gold positions on the 18th at 990.2 basis spot.

Today (the 19th) we also had a major sell signal in spot gold. Very unusual that this happend so quickly after our exit signal. Like I said "Ugly" has arrived.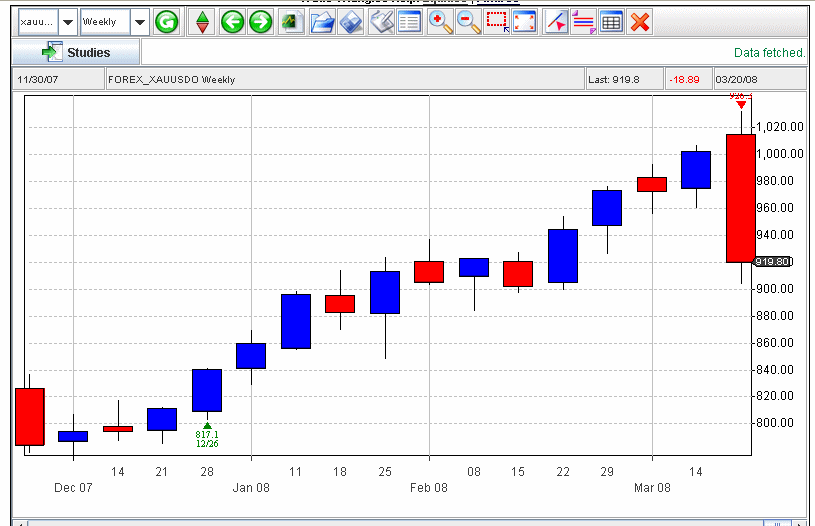 Downside targets (Fibonacci Retracements) for gold are:
1. $855
2. $800
3. $750
Stand aside and give these guys a lot of room as every hedge fund and commodity fund is bolting for the exit doors in all the commodity markets, including gold.
You have read on this blog before that the markets slide faster than they glide. Just look at Bear Stearns slide and several other recent meltdowns.
With the end of the month and the quarter fast approaching these hedge funds have got to have something to show for the month and the quarter. This slide may wipe out all their profits.
It all reminds me of what Bette Davis said in her 1950 movie, "All About Eve."
"Fasten your seatbelts, it's going to be a bumpy night"
Look for more bumpy markets and more volatility as the hedgies continue to bolt for the exit door that just got a whole lot smaller today.
Trade smart and trade to win.


Adam Hewison
President INO.com
WHICH WAY FOR THE MARKETS NOW?
Use this really cool analysis tool and get instant answers in plain English on any market. There is no cost.