We've all been there, where we're watching a trade thinking "man I'm totally upside down on this one", when out of the blue it turns around and you pay for the mortguage! That's a lucky trade! Today I've invited Rick Thachuk from WorldLinkFutures.com to open himself up and tell us about the luckiest trade he's ever had.
He wants this to be an open discussion so please tell us about your luckiest trade so we can see just how lucky you were!
======================================================================
It is often said that it is better to be lucky than be good. Despite years of formal education in Financial Market Economics and business, and despite countless hours of studying charts, news and trade videos, my best trade was one in which I literally had no idea what I was doing. Here's my story....
I was working in New York City as an Economist of a major commodities exchange. I remember that it was a Monday and I had just placed a trade by phone - you couldn't trade over your computer at the time, this was many years back - though I can't recall in which commodity market.
Two days later, I received a written trade confirmation from my futures broker sent by standard mail to my home address. Again, this was well before email was around so any activity in your account, such as trade activity, was confirmed by post. This was no big deal - I had confirmed the trade by phone on Monday - so I didn't bother to open the written confirmation until Friday night. That was a mistake...
I opened the trade confirmation expecting to see the usual entries for the commodity trade that I had made on Monday and the corresponding adjustments to cash. And, in fact, I did see this. However, I also saw, to my horror, something else. Underneath my trade was the calm confirmation that I had also, that day, bought an April Live Cattle futures contract.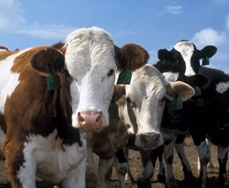 Now, I had never even looked at the Live Cattle market, though I had seen live cattle before, and I certainly never traded it. That inescapable sinking feeling that accompanies all bad news was quickly returning but it didn't reach its climax until I read the fine print down at the bottom of the piece of paper that I was holding in my slightly shaking hands...
This is what the fine print said...
"Please check confirmations shown above and report any discrepancies. Failure to report within 48 hours shall imply your acceptance of the transactions above."
I was reading this on Friday night, well after the trade desk had closed and, since this would have to wait until Monday, well after the designated 48-hour period as well. It looked like this long position in Live Cattle was now mine.
I remember going to the gym that night and not being able to concentrate at all. All night I worried over this until I finally had an idea. Hmmmm, I wondered, at what price did Live Cattle close on Friday?
Saturday morning, I bought a financial paper to check prices - this was before prices were available on the Internet, indeed, even before the Internet was popular - and I was overjoyed to see that April Live Cattle had closed about 2 cents higher than the price at which I had allegedly bought. So, I resolved to do the following...
When Live Cattle opened Monday morning I would call the trading desk and immediately sell one contract, thereby closing at a profit this trade and simultaneously turning a lemon, as they say, into lemonade.
Monday morning came and I executed this operation without problem. Now the only thing to do was to wait for the trade report in my mailbox a few days later just as final confirmation of the success of my cleverly contrived plan.
And Tuesday, when I returned home from work, there was the envelope sitting in my mailbox. Hmmm... a little bit earlier than expected, but what the heck. With confidence, I opened it and read,
"This is to inform you that the purchase of one Live Cattle futures contract [last Monday] was attributed to your account in error. This transaction has been corrected and the Live Cattle purchase has been removed from your account."
Hmmmm..... unexpected is this... and unfortunate, to quote a wise, extragalactic teacher.

All at once, the implications of this innocent piece of paper hit me. The mistake last week that had started this whole episode had been corrected but the Live Cattle contract that I sold just a few days ago was without a doubt, absolutely incontestably, my trade and I would have to bear the consequences of that trade.
What had the price of Live Cattle done since I sold one contract on Monday? I hadn't even looked. It would have to wait until I got into the office the next morning.
I spent the night worrying yet again and this time having no one to blame but myself. And all because of an attempt to twist an accounting error to my advantage.
It was a long subway commute to work that morning and, along with the usual burden of the briefcase, I was weighed down by equal measures of guilt and trepidation. I entered the office, booted up the price reporting screen and... was once again overjoyed at what I saw.
Live Cattle prices had fallen starting almost exactly from my sale on Monday and were trading well below my selling price. When the market opened, I bought one contract to close this short position, and then watched as Live Cattle prices rallied strongly the entire day.
The result is that I had inadvertently, and without studying any charts or reading any news stories, sold Live Cattle at the high on Monday and then bought it back on the low on Wednesday. I made a 3-cent profit equal to $1,200 for the one contract. And that was my luckiest trade ever.
Despite all of my best efforts over the years since that Live Cattle trade, I have never been able to buy at the low and sell at the high again. Strangely enough, though, it has been easier to do the opposite (buy at the high or sell at the low), but that's a different story.
Do you have a story of your luckiest trade? If so, please feel free to add it. I look forward to reading it… Maybe, with your permission, I'll bundle them into a book. You never know!
Rick Thachuk
President
World Link Futures, Inc.