Each Week Longleaftrading.com will be providing us a chart of the week as analyzed by a member of their team. We hope that you enjoy and learn from this new feature.
In the March 2014 Japanese Yen (CME:6J.H14.E), a recovery from the recent two day sell off has been underway this morning. Uncertainty on the state of the US economy has provided support for the Yen. In the event of the stock market undergoing a profit-taking correction after 11 straight sessions in the green, we would expect a short term boost in the Yen.
The March Japanese Yen has recently corrected after posting a recent swing high of 9.927 on February 4, 2014. Since correcting, the 20 Day Moving Average has acted as support on multiple occasions, and we anticipate it will continue to do so in the near term.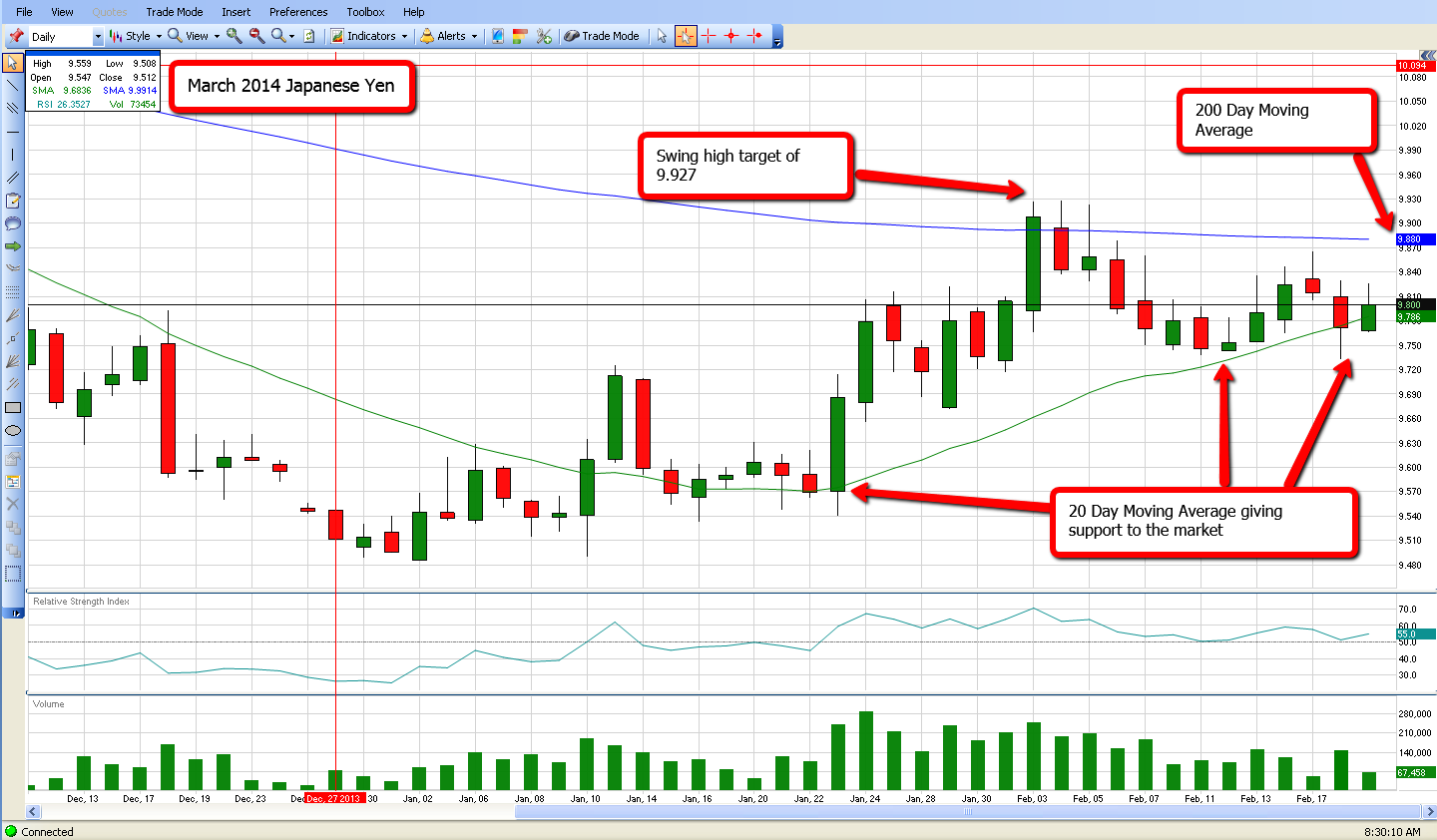 Using the 20 day moving average as a support level, I expect another leg up in the Japanese Yen if we break the high in yesterday's session of 9.829 today. Along with a strong relative strength index reading, the near-term upside target for this move would be the swing high of 9.927. In this instance, it would be fitting to roll stop orders behind the position, as the 200 day moving average sits just below the swing high and may act as resistance.
I advise clients on trading futures and futures options markets on a day to day basis. If you have any questions regarding this chart or questions regarding trading futures and futures options, feel free to call me directly at 888-272-6926.
Thank you for your interest,
James Leeney
Account Executive
Phone: (888) 272-6926
www.longleaftrading.com
** There is a substantial risk of loss in trading futures and options. Past performance is not indicative of future results. The information and data contained in this article was obtained from sources considered reliable. Their accuracy or completeness is not guaranteed. Information provided in this article is not to be deemed as an offer or solicitation with respect to the sale or purchase of any securities or commodities. Any decision to purchase or sell as a result of the opinions expressed in this article will be the full responsibility of the person authorizing such transaction.