I am sure, like a lot of traders, you are paying close attention to what is going on in Iraq, Syria and Iran. My take on the situation is that it's not going to get better and the US is certainly not going to get involved in any meaningful way. This spells out doom for Baghdad, along with a bloody civil war which may have already started.
Against that backdrop, energy prices will continue to move higher and the possibility exists that the oil fields and processing plants in Iraq could be blown up just to put that country back in the Stone Age. We are dealing with a bloody sectarian war that is and will continue to tear that country apart. It also brings to mind what is going to happen to the rest of the Middle East? This whole Middle East problem has been going on for longer than anyone cares to remember and it's only going to be settled with a "bigger stick." At the moment, ISIS has the "bigger stick," the money, and the ferocious obsession of bringing their way of life to the area and surrounding areas. All in all it does not sound like too rosy a picture to me.
That got me thinking about who or what is going to benefit from much higher energy prices. One company stands out in my mind is Tesla Motors Inc. (NASDAQ:TSLA) You're probably familiar with their expensive sports car that sells for upwards of $100,000, but they're working hard on producing a lower-priced model, one for the masses. They are also planning the largest battery manufacturing plant in the world.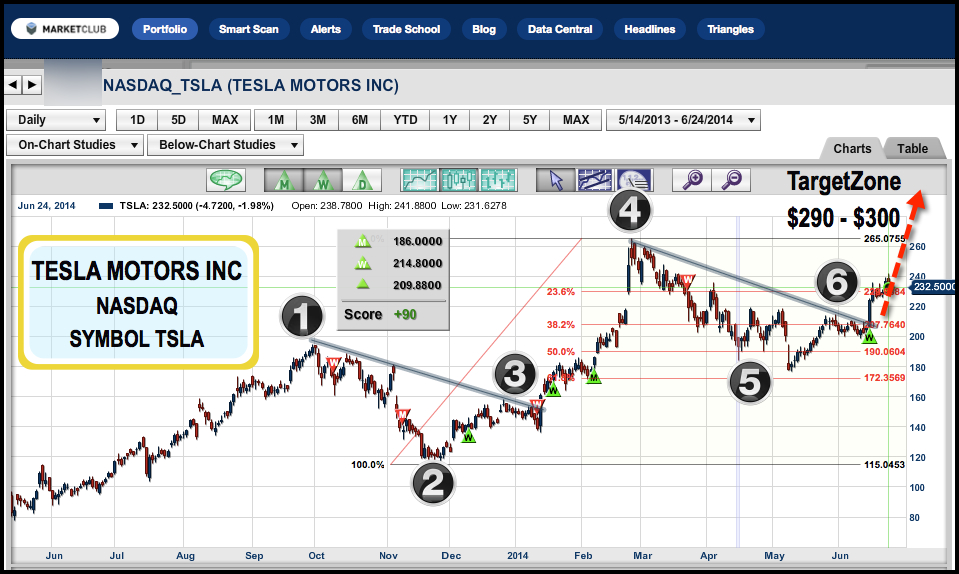 All of this is driven by one man, Elon Musk, who is the driving force and mastermind behind Tesla's domination of the electric market and SpaceX.
Musk has to be considered the Henry Ford of his day with a little bit of the Steve Jobs' "Apple Magic" thrown in. Certainly the country can use more people like Elon Musk, who actually hails from South Africa originally.
Looking at a chart of Tesla's stock, symbol TSLA, I can see that this stock has been moving steadily higher since our last by buy signal at $186 earlier this year in February.
The present chart pattern is looking eerily similar to the chart pattern that took place in October, 2013. Once the market broke over the downtrend line, it literally took off and made new highs. As you can see from today's chart, we have a similar pattern and a similar breakout to the upside.
1. A record high last October.
2. A correction from those highs.
3. A breakout over the downtrend line.
4. Another new high, six months after its earlier high.
5. Another Fibonacci correction from the highs.
6. Breakout and weekly Trade Triangle.
7. Upside target zone of $290-$300.
If we continue to see a similar cyclic pattern to the previous highs that took place last October and again in March of this year, then I would expect to see a high for Tesla Motors Inc. (NASDAQ:TSLA) some time in late July or mid August.
With all of the Trade Triangles in a positive mode, I expect that the line of least resistance for this stock will be on the upside. Of course, any positions taken should be managed carefully using stops and money management techniques to protect capital.
Every success with Tesla,
Adam Hewison
President, INO.com
Co-Creator, MarketClub