As part of my daily routine, I use Smart Scan to look for stocks hitting new 52-week highs. I was shocked today when I saw McDonald's on the list. I can honestly say that McDonald's hadn't crossed my mind as of late, other than when the talking heads on TV talk about how poorly the company is performing here in the United States. And yet there it was, making a new 52-week high of 101.44 yesterday. Not only that, but it's closing in on the all-time high of 103.78 on 5/14/14.
It just so happens that I took my youngest son out to lunch yesterday and of course he wanted to go to McDonald's. So we jumped in the truck and headed over to the brand new one that they built in my town. Yes, I said new one. There are now two in this little town, the established one that's been here forever and the new one about 3 miles north of the old and on the other side of town. I remember asking myself, will the new one be busy? Will it take away to much business from the old one? I guess time will tell.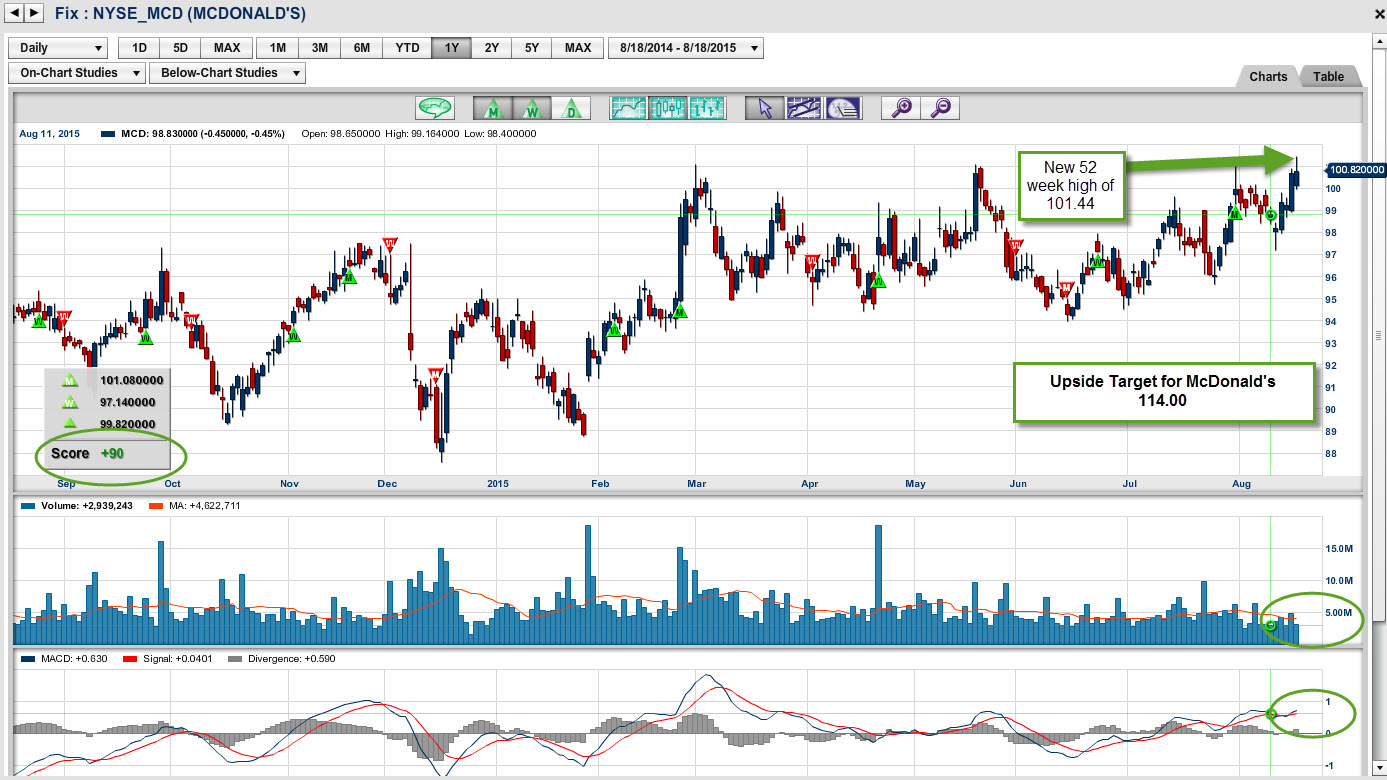 We pull up to the new one, and I notice that they still have a "Now Hiring" sign out front, and I think, "Oh boy, this isn't going to go well." As I walk in, I'm hit with the newness and completely different look and feel of this McDonald's. It's very futuristic and almost characterless honestly. I also notice that there is a line of cars around the building and 5-6 people waiting on food inside with looks of disdain on their faces. As I turn to get in line, I notice that they only have one person working the counter with a line of people waiting. As people start to complain about the wait I make an executive decision, "kid, were going to the other one" and we leave.
As I'm pulling into the old McDonald's, I hear my son in the back seat say "Hey Dad, I like this McDonald's better anyways". I say, "really? Why is that?" He says, "It's the one we've always come to, and it has a playground." I can't argue with that, and as we walk in he says, "Boy, there aren't any cars in the drive-thru or that many people waiting, why is that Dad?" And he's right, even though the place is filled up with customers eating their food and a steady stream of cars going through the drive-thru at a consistent pace. It was fully staffed and running like a well oiled machine. I order our food, and it comes very quickly, enough so that my son remarked, "Boy that was fast! Must faster that the last one".
We sit down, and he drops another observation on me, "Dad, why have they gotten rid of Ronald McDonald and replaced the Happy Meal with this CREEPY mascot?" I must admit, the new mascot is creepy. I do love the minds of 7-year-old kids.
I know that was long, but I thought it was relevant to the new business model that McDonald's is employing. Is it really the best for them to take? Will it propel the company to new heights and profits? Judging by the stock price, it looks like it is.
What's my outlook for the stock? With strong volume, a positive MACD reading and the Trade Triangles all pointing positive, I could see McDonald's reaching 114.00 if it closes out the week at or above the 52-week high.
For now, keep an eye on MacDonald's and the 52-week high Smart Scan. McDonald's may even be a candidate for the 52-week high on a Friday trade this week.
Every Success,
Jeremy Lutz
INO.com and MarketClub.com
Disclosure: This contributor does not own any stocks mentioned in this article. This article is the opinion of the contributor themselves. The above is a matter of opinion provided for general information purposes only and is not intended as investment advice.