Nothing exhibits more confidence in a stock to investors than insider buying. Insider selling may be done for a number of reasons, but there's only one reason why they might buy. No one knows more about a company than those who run it so when they start buying stock; it's a good idea to sit up and pay attention.
In a volatile market like we've seen lately, positive buying action is doubly enticing. And in a nervous market, it also helps to buy into an industry with strong growth and high demand.
There's been a strong trend in the technology industry to invest in "IoT" like big data services and telecommunications infrastructure. One stock in this growing industry stands out with insider buying and heavy demand for telecommunications infrastructure development.
Growth in telecommunications is expected to grow rapidly over the next few years. For 2015, growth is expected to be 5.57% while 2016, 2017, and 2018 is estimated to be 6.21%, 7.03%, and 7.49% respectively. Merger and acquisition activity is likely to increase over the same period as well.
Healthy fundamentals make this company a clear winner
Level 3 Communications (LVLT) is a $16.5 billion diversified communications company with facilities and operations in over 60 countries. Since August, insiders have purchased 971,002 shares of stock while only 20,000 have been sold. It's a clear signal to investors that this stock could move higher very soon.
The stock hasn't done much so far this year – down 6.12% year-to-date. It's began moving up though in past week posting a gain of 2.63%. This month also saw an upgrade by analysts at Macquarie from "neutral" to "outperform." The target price on the stock is also much higher than it's current price with an average value of around $60.
The company missed its most recent earnings report with a loss of $0.04 per share versus an expected gain of $0.39 per share. However, management did report that the miss was mostly due to a temporary drop in revenue that should be resolved by next quarter. This miss could present a buying opportunity for savvy investors.
The rising demand for bandwidth and the explosive growth in "IoT" should benefit Level 3 for the next several years. The merger with TW Telecom should also begin paying dividends for the company as well and investors could see some upside earnings surprises over the next few quarters.
Looking at Level 3's chart, we can see the sharp drop off in price over the past couple of months.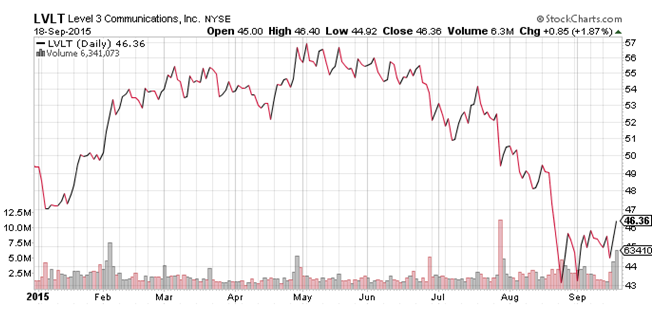 Chart courtesy of StockCharts.com
However, a value opportunity has presented itself with the stock already beginning to trend higher. It's still near it's low for the year and could be a good entry point. Notice how the stock has been moving up on higher volume as well – a strong signal that positive momentum is beginning to build up in the stock
The stock has an astonishingly high EPS growth rate at 133% next year giving it a PEG ratio of less than one despite its seemingly high P/E ratio. The telecommunications industry average EPS growth rate next year is 11.5% making Level 3 one of the fasting growing companies in the sector.
Full-year earnings are expected to be $1.31 which gives the stock a fair value of around $68 based on its current P/E. That's a discount of over 47% making it a heavily undervalued stock despite its high growth rate.
Check back to see my next post!
Best,
Daniel Cross
INO.com Contributor - Equities
Disclosure: This contributor does not own any stocks mentioned in this article. This article is the opinion of the contributor themselves. The above is a matter of opinion provided for general information purposes only and is not intended as investment advice. This contributor is not receiving compensation (other than from INO.com) for their opinion.