Analysis originally distributed on April 24, 2017 By: Michael Vodicka of Cannabis Stock Trades
Cannabis legalization is happening all across the globe.
This week, that global footprint is taking us to a country located at the far reaches of the Amazon Rain Forest, tucked into the southeastern coast of South America.
More than 2,000 miles south of the equator, a tiny country of 3.4 million citizens is about to become the first in South America to sell recreational cannabis.
And an up and coming company with one of the few permits to sell cannabis is in position to cash in.
Let me explain….
Uruguay is about to Become the First Country is South America to Sell Recreational Cannabis
On April 8, Uruguay announced it would let pharmacies sell recreational cannabis beginning on July 1.
Uruguay Government Legalizes Recreational Cannabis in Pharmacies
This is the culmination of a four-year journey. Uruguay initially voted to legalize recreational back in the summer of 2013.
And it's a big win for the cannabis industry.
Uruguay will become the first country in South America to sell recreational cannabis.
Not only does that set the stage for other countries to follow suit.
The legalization also unlocks a potential billion-dollar market.
To get the latest analysis as soon as it is released, please subscribe to our free weekly newsletter.
Early estimates suggest there are more than 55,000 people who smoke up to 40 grams every month.
Early estimates also suggest that total demand for both medical and recreational cannabis would be 27 million tons annually.
This represents a potential gold rush for the companies being granted permits to sell cannabis.
Let me show you how you can profit.
The Best Way to Profit from Uruguay's Green Rush
International Cannabis Corp (TSX.V:ICC, OTC:ICCLF) is another undercover cannabis company. I bet most readers have never heard of it. It's a relative newcomer to the cannabis scene.
ICC is headquartered in Vancouver and began trading on the Toronto Venture Exchange on November 29.
Shares available to US investors through OTC markets under the ticker symbol ICCLF.
Here's what makes this young cannabis company interesting.
In October of 2015, ICC became the first company in South America to receive a license to sell recreational cannabis.
After going public last fall, ICC has been aggressively deploying capital and ramping up production.
•In August of 2016 it bought a 102-acre hemp field.
•That same month it received a permit to extract cannabinoids from this field.
•Raised $13 million in capital in private investment.
On February 10, 2017, ICC announced it had successfully moved production to a new 70,000 square foot, state of the art greenhouse located in Montevideo, Uruguay. This represents a huge upgrade that will enable ICC to ramp production more efficiently. The facility includes:
•Two growing areas of 5,167 square feet each, totaling more than10,000 square feet
•Four 10,333 square foot flowering areas, totaling more than 41,000 square feet
•A total of almost 55,000square feet of production area, with the remaining area dedicated to trimming, drying, packing and stocking
ICC estimates this facility will allow it to produce 170 Kgs per month during the first year, and 830 Kgs per month at full capacity. Take a look below.

Looking forward, ICC will be very busy in 2017 with plans to continue ramping production.
For example, in March ICC began Construction of its first hemp greenhouse (21527 sq ft).
In May, it will plant 3,000 plants at this facility.
Here's What I like About ICC
There are a few things that are attractive about this stock.
Its best asset is first-mover advantage. Plenty of companies are scrambling to get cannabis permits. There will be new competition hitting the Street in the next 12 months. But right now, ICC is way ahead of the game.
No other company in Uruguay is even close to its production capacities and growing sales channels.
That first-mover advantage also gives ICC a shot at expanding into other South American countries ahead of the competition. With a population of more than 620 million, South America could grow into an enormous cannabis market with its growing legalization movement.
Here's What I don't Like about ICC
Uruguay's cannabis market is going to be highly regulated by the government. For example, Uruguay will limit how much cannabis each pharmacy will be allowed to sell.
Too much regulation can stifle innovation and prevent companies from responding to consumer demand.
ICC is also a super young and small company with a market cap just north of $7 million.
Even if ICC is an awesome company, small stocks are very speculative and can easily get pushed around by pump and dump scammers.
ICC Recently Surged Higher on the Chart
ICC was mostly weak since going public in November.
But shares recently reversed and surged higher. Take a look at the volume spike circled in red below the chart.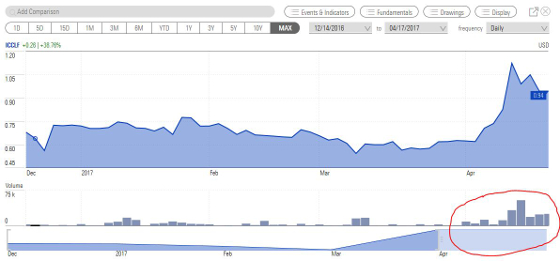 Risks to Consider
The biggest risk for ICC is the over regulation of Uruguay's cannabis market. Uruguay needs to give these young cannabis companies enough operating space to innovate and respond to consumer demand.
The Takeaway
ICC is a super young company and highly speculative stock. The risk reward here is very high. This is a smaller, satellite holding in a diversified cannabis portfolio. I will be keeping this stock on my radar for myself, my wealth management clients and CST Premium subscribers.