Analysis originally distributed on April 12, 2017 By: Michael Vodicka of Cannabis Stock Trades
Studies have found that legalizing cannabis has an overwhelmingly positive effect on society.
It takes the illegal drug trade out of the hands of foreign cartels and puts it into the hands of tax-paying, law-abiding businesses.
It reduces crime.
And it helps generate additional tax revenue.
These benefits have been proven time and time again through data and research. If you want a case study, this article showcases how cannabis is having a hugely positive impact on Colorado.
However, wider spread use of cannabis and cannabis medications does have a potential downside – more people "driving stoned."
This is creating a big opportunity for an up and coming cannabis technology company.
• This little known company is racing to develop the first cannabis breathalyzer.
• Exclusive worldwide license of University of Florida US Patent 8,237,118 in the area of breath analysis of controlled substances.
• Shares have strong upward momentum, gaining almost 30% in the last three weeks.
Cannabix Technologies Inc. (OTC:BLOZF) is another cannabis stock that is flying under the radar. I've spent thousands of hours buried in cannabis stocks for the last four years and I didn't uncover this company until a few weeks ago.
Cannabix is headquartered in Vancouver.
It has its primary equity listing on the Canadian National Stock Exchange (CSNX) - an alternative to Canada's largest stock exchange in Toronto for smaller companies to access public capital.
Shares are available to US investors through OTC markets under the ticker symbol BLOZF.
Here's what makes this company so interesting.
Cannabix is racing to develop the world's first cannabis breathalyzer.
Take a look below.

This probably looks familiar. It looks just like an alcohol breathalyzer.
However, it would be a big breakthrough in the world of cannabis testing.
Today, the only way for the police or medical professionals to administer a quick cannabis test is through a saliva sample. Not exactly easy to administer and test on the side of a dark road at 2am.
A cannabis breathalyzer would be a huge upgrade. It would allow for easy, real-time in the field testing.
As more states and countries legalize cannabis, this is a device that every single police department in the world will need.
Consumer research suggests this is already a $500 million annual market - that could double or triple in the next few years.
I see a lot of opportunity for the company that can be first or best to market. And I am expecting Cannabix to be in the mix.
Before you get too excited, Cannabix has plenty of work to do.
This product is still in its beta phase - it is still being tested and developed.
That means Cannabis has no customers and no revenue.
And Cannabix isn't the only game in town.
Hound Labs is also making big moves in the space with its own cannabis breathalyzer.
From my research it looks like Hound and Cannabix are the two big players in this space.
I see no reason both of these companies can't be successful.
For now, Hound Labs is privately owned - so we can't invest but we'll keep it on our radar.
Cannabix is up huge in the last two years but it's been a bumpy ride
Cannabix went public almost three years ago.
Since then, shares have seen big gains, but the ride has been super bumpy.
Cannabix rallied pretty hard last fall with the broader cannabis sector. Today, shares are trading within striking distance of the all-time high.
Take a look below.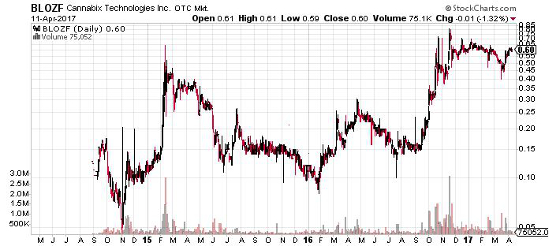 Chart courtesy of StockCharts.com
What is the Takeaway on Cannabix?
Cannabix is an early leader in the high-growth cannabis breathalyzer market. But with a market cap of $51 million and no revenue, this is definitely a high-risk stock. If you decide to invest, take it slow, focus on the very long term picture because there will be plenty of crazy volatility in the short run and only risk a very small amount of capital.