Analysis originally distributed on July 13, 2017 By: Michael Vodicka of Cannabis Stock Trades
There are millions of square feet of cannabis cultivation facilities being built all across North America.
Take Americann (OTC:ACAN) for example. Americann is a U.S. based cannabis company headquartered in Massachusetts. Americann is in the early stages of building a 1 million square foot cultivation facility in Mass that will potentially serve as the primary cultivation hub to supply a huge portion of the Eastern cannabis market.
Cronos Group (CDNX:MJN.V) is another good example. Cronos is a Canadian cannabis company headquartered in Toronto. In May, Cronos announced that one of the companies it owns, Peace, had broke ground on a 315,000 square foot cultivation facility.
This project will include a 286,000 square foot production facility, a 28,000 square foot greenhouse, and a 1,200 square foot extraction laboratory.
When finished, this facility is expected to be one of the largest indoor cannabis production facility in the world.
As you can see, cannabis companies are in the process of hugely ramping up their cultivation capacities to meet the tidal wave of demand for cannabis coming down the pike.
One way to profit is to simply invest in the companies building these cultivation facilities. That could turn out to be extremely profitable.
However, I have an even better way to potentially profit.
This way – you can profit from almost every cultivation company in the entire industry by investing in a company that is already supplying cultivation centers with mission critical lighting systems.
Solistek Digital (OTC:SLTK) is an early leader in the high-growth industrial cannabis lighting systems industry. The company is headquartered in Carson, California and has a market cap of $51 million.
Solitek's specialty is designing and manufacturing a wide range of lighting systems and components that are crafted specifically for the cannabis industry.
Its line of products range from complete lighting systems to individual bulbs.
Here is an example of the higher end, complete lighting system.
Here is a list of features from the Solis Tek website showcasing how technologically advanced these systems are.
Professional 1000W adjustable ultra high frequency lighting system
High efficiency super reflective horticultural aluminum
Suitable for High Pressure Sodium & Metal Halide Lamps
Incredibly high output & even spread
Featuring Ignition Control™ & SenseSmart™ diagnostic check
Includes SolisTek high output 2,100 µmol HPS lamp
Light weight & easy to install & reflector is easily replaceable
These units range in price from $549 to $599
Here are a few pics of Solistek's digital reflectors.

Here are a few pics of Solistek's digital light bulbs.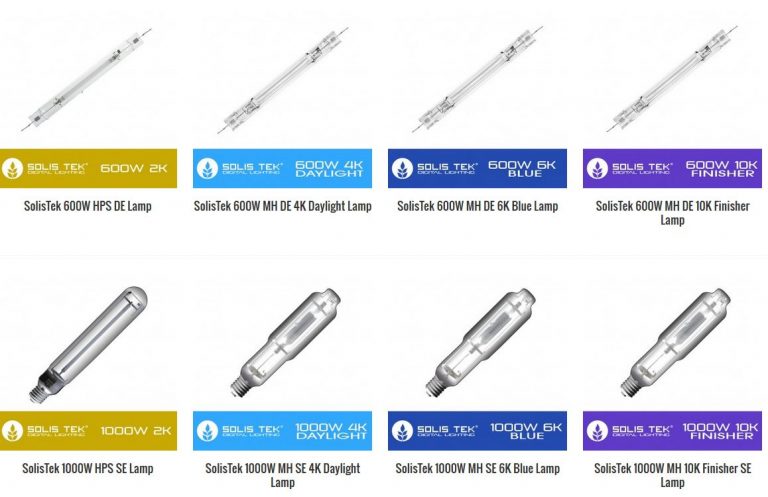 Solistek 2016 Revenue was up 11% from 2015
Solistek is already establishing itself as an early leader in a high-growth cannabis sub industry. Its recent earnings reports have shown impressive growth.
It's 2016 revenue increased 11% from 2015 to $8.56 million.
Gross profit was up 15% to $3.12 million.
Gross Margins increased to 36.5% up from 35.3% in 2015.
Its cash balance increased 159% to $276,000.
More recently, Solistek reported awesome first-quarter results on May 8.
Revenue jumped 12% from the same period last year to $2.9 million.
Gross profit jumped 21% to $1.1 million. and $925,957, respectively.
Gross margin once again ticked higher, climbing to 38.6% from 35.8% in the first quarter of 2016.
Its cash balance was up big, climbing 50% to $416,000.
This growing cash balance is important because it gives Solistek more capital to invest in growth.
On a GAAP basis, which is how regulators require publicly traded companies report their quarterly results, net income was negative for the quarter.
However, on a non-GAAP basis when stripping out one-time expenses, Solistek was almost break even on profit for the quarter. That represents an important turning point that shows the company is on the verge of becoming profitable.
Solistek is Getting More Attention in the Broader Cannabis Industry
Solistek's impressive growth is generating more interest within the cannabis industry.
In April, Solistek was added to the MJIC North American and United States Cannabis indices.
Solistek achieved multiple qualifiers to be included in the index.
The minimum trading requirements for companies to join the index are:
Co weighted average minimum market capitalization of US$30 million
Daily trading volume of US$600,000
Share price of US$0.10
This is an important achievement for Solistek because it will help the company gain more publicity from investors and that should eventually drive more capital inflows into its stock.
Solistek Looks like one of the Most Undervalued Stocks in an Overvalued Industry
Since this company isn't yet profitable, we must use sales to analyze valuation.
Based upon first-quarter sales of $2.9 million, I am expecting Solistek to deliver sales of $12 million in 2017.
With a market cap of $50 million, that has Solistek trading at 4.2X annual sales.
A sales ratio of 3 is considered value territory. So a 4.2 multiple on a company growing revenue 12% year over year is a pretty nice bargain in the cannabis industry.
Solistek is Developing Major Support on the Chart
Solistek has had a pretty wild year on the chart.
Shares spent the first three months of the year trending higher. Then Solistek blasted higher above $3, giving it a 550% gain. Since then, shares have fallen sharply but are still up 175% on the year. Take a look below.

This looks like a great formation to me. I think shares are in the early stages of forming a long-term bottom and should reverse and head higher.
The Big Picture on Solistek
Solistek is an early leader in the cannabis sub industry of lighting equipment. Sales growth has been impressive in the last 12 months, which has gotten the attention of the broader cannabis sector and led to its inclusion in the MJIC cannabis index. I've got this stock on my short list to add to the Cannabis Stock Trades member portfolio.
Enjoy,
Disclosure: Michael Vodicka owns shares of Terra Tech (TRTC), Kush Bottles (KSHB), Cara Therapeutics (CARA) and INSY Therapeutics (INSY)
The information contained in this post is for informational and educational purposes only. The trading ideas and stock selections represented on the Cannabis Stock Trades website are not tailored to your individual investment needs. Readers and members are advised to consult with their financial advisor before entering into any trade. Cannabis stocks carry a certain level of risk and we accept no responsibility for any potential losses. All trades, patterns, charts, systems, etc. discussed are for illustrative purposes only and not to be construed as specific advisory recommendations. All ideas and material presented are entirely those of the author and do not necessarily reflect those of the publisher.