Analysis originally distributed on Decemberber 20, 2017 By: Michael Vodicka of Cannabis Stock Trades
Last week I shared a list of 6 cannabis stocks I expect to profit from the legalization of recreational cannabis in California.
This week I am going to take a deeper dive into one of my favorite stocks from the list.
This is a good stock to profit from California
It's also a broad play on the US cannabis sector
Third-quarter sales were up 86% from last year
Shares just spiked into a 52-week high
I see plenty more gains ahead.
GrowGeneration (OTC:GRWG) is a US cannabis company headquartered in Denver, Colorado.
Shares are traded in US, OTC markets under the ticker symbol GRWG.
GrowGeneration owns and operates specialty retail hydroponic and organic gardening stores. Currently, GrowGen has 13 stores, which includes 9 locations in Colorado, 2 locations in California, 1 in Las Vegas and 1 location in Seattle.
GrowGen carries and sells thousands of products, including organic nutrients and soils, advanced lighting technology and state of the art hydroponic equipment to be used indoors and outdoors by commercial and home growers.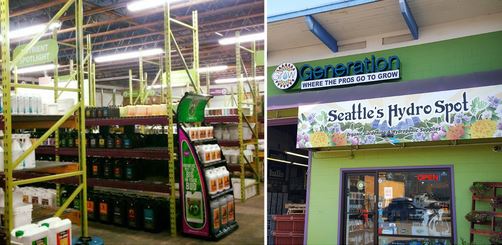 2 Profit Triggers That Could Send GrowGen Soaring
GrowGen is a direct play on California. California is already the single largest cannabis market in the world and it's about to get even bigger as recreational cannabis went legal on January 1.
GrowGen is in position to cash in.
GrowGen currently operates two locations in California, one in Northern California in Santa Rosa and one in Southern California in San Bernadino.
I expect both of these stores to experience record demand in 2018 as cannabis growers expand production.
I have not seen any official announcements, but looking forward I am expecting to see GrowGen expand in California with new locations. And that should be very good for sales growth and sentiment.
Even if GrowGen struggles in California, I still expect the company to do well
GrowGen is a broad play on the US cannabis industry.
The company has locations and is expanding all over the largest US cannabis markets.
For example, GrowGen owns and operates nine stores in Colorado, the second largest Cannabis market in the US where recreational use is legal.
GrowGen also operates a location in Nevada, another state where recreational cannabis is legal.
Looking forward, GrowGen will be investing millions of dollars to expand its footprint in the fastest growing US cannabis markets.
The Northeast is the focal point of that expansion plan.
GrowGen has plans to open new locations all across the Northeast, including Massachusetts, where recreational cannabis is set to go legal in 2018, and Maine, where recreational use is already legal. Take a look at the expansion plan below from the GrowGen website. States GrowGen currently operates in are colored green and states GrowGen is expanding into are colored in yellow.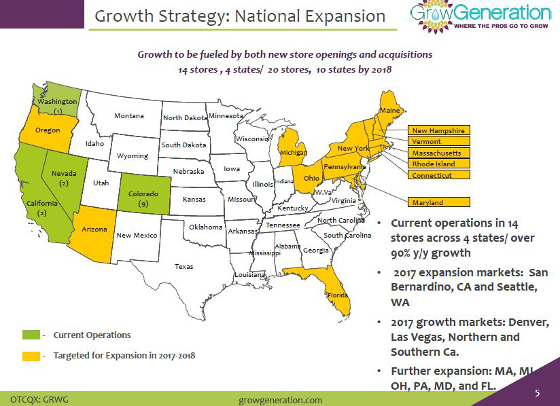 Third-Quarter Revenue Up 90% From Last Year
GrowGen's focus on high-growth cannabis states is already paying off. GrowGen reported record third-quarter results in early November.
Revenue of $4 million was up 86% from the same period last year.
Same-store sales, a key retail metric, jumped 31% - an amazing number in an environment where most retailers would be happy to see 3% to 5%.
This impressive sales growth has made GrowGen one of the most undervalued stocks in the entire cannabis sector.
With revenue of $13 million in the last four quarters and a market cap of $54 million, GrowGen has a price-to-sales ratio of just 4 - well below the industry average.
GrowGen Recently Surged Into A New 52-Week High On The Chart
GrowGen spent most of 2017 trending lower with the broader US cannabis index.
However, shares recently surged higher, jumping more than 100% from the 52-week low.
This sharp rebound is a bullish signal. It shares a reversal in sentiment as investors begin to shift back into US stocks that are trading a lot lower than their Canadian and Australian counterparts.
Risks To Consider
US cannabis stocks are still struggling with legal risk - medical and recreational cannabis are both still illegal at the federal level. I think some of that fear is subsiding, but US cannabis stocks are still at risk from any whiff of a federal crackdown.
The Big Picture
GrowGen provides broad exposure to the US cannabis market and a growing presence in high-growth California. Shares recently surged higher. That tells me sentiment has shifted back to bullish. Looking forward, I am expecting GrowGen to close the year at a new 52-week high and enter 2018 with a lot of upward momentum.
Enjoy,
The information contained in this post is for informational and educational purposes only. The trading ideas and stock selections represented on the Cannabis Stock Trades website are not tailored to your individual investment needs. Readers and members are advised to consult with their financial advisor before entering into any trade. Cannabis stocks carry a certain level of risk and we accept no responsibility for any potential losses. All trades, patterns, charts, systems, etc. discussed are for illustrative purposes only and not to be construed as specific advisory recommendations. All ideas and material presented are entirely those of the author and do not necessarily reflect those of the publisher.