Analysis originally distributed on February 14 2018 By: Michael Vodicka of Cannabis Stock Trades
PotNetwork Holdings (OTC:POTN) has been one of the best performing cannabis stocks in the last five weeks.
Despite a recent pullback with the broader cannabis sector, shares of the US-based CBD specialist are still up more than 1,000% in just the last five weeks, jumping from $0.06 on December 26 to $0.65 on February 13.

Those are the kind of short-term gains that can have a serious impact on a shareholders financial profile.
If you missed out on the big move higher - don't worry - I see this same pattern repeating itself with a little-known, CBD specialist that just began trading on the Australian Stock Exchange in early January. Let's take a closer look.
Elixinol Global (ASX:EXL) is a young and promising cannabis company headquartered in Sydney, Australia.
This is a new cannabis stock - shares began trading on the Australian Stock Exchange on January 8, a little over a month ago.
I see average daily trading volume of 482K - so this stock is plenty liquid for 99% of investors.
I do not see a US-based, OTC ticker. That means any potential investors will have to buy shares through the Australian Stock Exchange. That shouldn't be a big deal - almost every major brokerage firm in North American and really across the world offers access to the exchange Down Under.
Elixinol Operates In Three Divisions
Elixinol LLC ("Elixinol US") which was founded in 2014 and manufactures and distributes industrial hemp-based nutraceutical, dietary supplement and skincare products, with operations based out of Colorado, USA.
Elixinol Pty Ltd ("Elixinol AUS") which was founded in 2014 to participate in the emerging Australian medicinal cannabis market.
Hemp Foods Australia Pty Ltd ("HFA") which was founded in 1999 and manufactures and distributes industrial hemp-based derived products in Australia.
The Elixinol LLC division is the reason this company reminds me of POTN. This is the area of the company that is handily producing the best sales and sales growth - and I also believe this division has the most short-term growth potential.
Similar to POTN, Elixinol US makes CBD health and wellness consumer products.
As a reminder: studies have shown that the non-psychoactive elements of CBD can deliver relief to a wide range of ailments, including aches, pains, anxiety, insomnia, and arthritis - without the euphoric effects provided by THC.
Elixinol has a ton of awesome information on the CBD market and benefits if anyone wants to take a closer look.
The Hemp Business Journal, a CBD media, and data company, estimates the CBD market will grow to $2.1 billion in consumer sales by 2020. That would be a 700% increase from 2016 (latest full-year data available).
This would make CBDs one of the fastest growing cannabis sub-industries.
Elixinol LLC is in position to cash in on this bullish trend.
The company has a wide product line of CBD consumer products that are sold in the US.
This group of products is already delivering impressive sales and growth.
Sales in the first six months of 2017 came in at $5.8 million - up from $7.1 million for the entire year in 2016.
Looking forward, I expect more revenue growth as the CBD market continues to expand.
What About the Other Two Divisions?
Hemp Foods Australia is also delivering impressive sales growth.
Revenue in 2017 came in at $2.9 million, up from $2.5 million in 2016.
Elixinol Australia is working towards entering the Australian medical cannabis market. I see some nice potential here but as it stands this division isn't producing any revenue yet.
All three divisions combined produced pro forma revenue of $15.5 million in 2017.
That gives Elixinol a price-to-sales ratio of 9. That is high compared to the S&P 500's 2.2, but within the high-growth cannabis sector, it ranks as one of the better value plays.
Elixinol is Down 27% Since Going Public in Early January
Elixinol has been slightly weak since going public in early January - shares are down about 27%.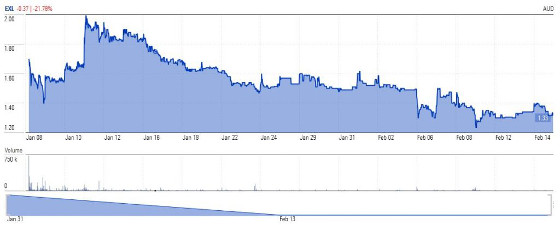 I don't view this weakness as being company specific. I see it as being driven by weakness in the broader cannabis sector. Looking forward, I expect shares to stabilize and trend higher.
Risks to Consider
I see a lot of potential for Elixinol in the Australian medical cannabis market. However, the company is still in the very early stages of entering this market and it needs to execute its plan.
Action to Take
CBD stocks have been hot - on display with POTN's huge gain in the last five weeks. I am looking for Elixinol to follow suit and jump higher as more investors become aware of this undercover CBD Stock.
Enjoy,
Disclaimer: Michael Vodicka owns shares of PotNetwork Holdings (POTN). The information contained in this post is for informational and educational purposes only. The trading ideas and stock selections represented on the Cannabis Stock Trades website are not tailored to your individual investment needs. Readers and members are advised to consult with their financial advisor before entering into any trade. Cannabis stocks carry a certain level of risk and we accept no responsibility for any potential losses. All trades, patterns, charts, systems, etc. discussed are for illustrative purposes only and not to be construed as specific advisory recommendations. All ideas and material presented are entirely those of the author and do not necessarily reflect those of the publisher.