Analysis originally distributed on May 10, 2018 By: Michael Vodicka of Cannabis Stock Trades
US cannabis stocks got a big jolt last month after President Trump promised to support cannabis.
After taking a short breather, it looks like US cannabis stocks are ready for another push higher.
The MJIC US cannabis index in a formation known as a Bullish Flag – a formation on the chart that frequently leads to an upside breakout and new high.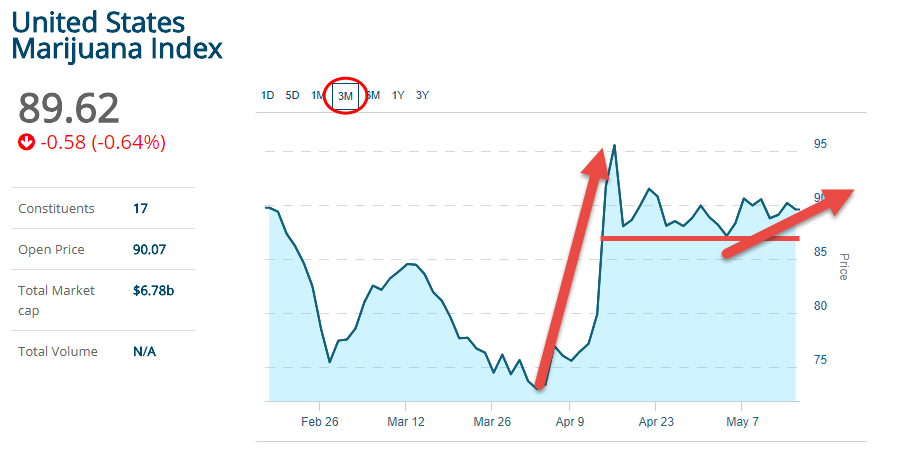 This Bull Flag is creating a great opportunity. If the index surges higher cannabis shareholders should pick up some nice gains.
Today – I want to reveal a promising young cannabis company headquartered in Canada that is making a big splash in the US cannabis market.
MPX Bioceuticals (MPXEF) is a young Canadian cannabis company that is already cashing in on the high-growth US cannabis market.
Shares are listed on the Canadian Stock Exchange under the ticker MPX. I see an average daily trading volume of 1 million shares so this ticker is plenty liquid for 99% of investors.
I also see a US-based OTC ticker of MPXEF with an average daily trading volume of 895K, so this ticker is plenty liquid too.
MPX has a market cap of $225 million. That makes MPX a mid-sized company in the cannabis sector.
MPX Already Has a Strong Presence in the US Cannabis Market
Even though MPX is headquartered in Canada, this company is a direct play on the US cannabis market.
MPX owns and operates four cannabis dispensaries in Arizona.
In Nevada, MPX is operating GreenMart, a fully licensed cultivation, production and wholesale cannabis business.
In Massachusetts, the construction of the first of three dispensaries is underway as is the construction of a cultivation and processing facility in Falls Rivers.
MPX is also managing three dispensaries and one production facility in Maryland (which are not yet operational) and has options to acquire each facility.
MPX is also making moves north of the border into Canada – one of the fastest growing cannabis markets in the world. MPX has a production facility under construction in Canada as well as a pending license application to Health Canada.
On August 23, 2017, the Company was advised that its application for Licensed Producer status from Health Canada was at the Detailed Review and Initiation of Security Clearance Process stage and has started construction of its 72,342 square foot production facility.
With all production facilities, MPX anticipates that it will have 9 million grams annually in cultivation capacity and be able to produce 1.2 million grams of concentrates.
These aggressive moves into the US cannabis market are already paying off.
In early April MPX reported record monthly sales from its Arizona operations – which account for the majority of company revenue.
Here are more details from the press release.
MPX has reported that its managed Arizona assets have recorded their best revenue month in March with sales of cannabis and cannabis concentrates hitting the US$4.0 (CDN$5.2) million mark for the first time.
"We have been accumulating assets and expanding capacity in Arizona for the past 15 months and we are now seeing those efforts producing significant revenue expansion with an annualized revenue run-rate in excess of CDN$60 million", says W. Scott Boyes, MPX's Chairman, President and CEO. "With three operating dispensaries, two cultivation and two concentrate production facilities under management in the Greater Phoenix area, MPX is providing high quality cannabis-based medicines to an ever-increasing number of patients. The Arizona Department of Health Services ("AZDHS") has reported that the number of card-holding cannabis patients increased by 33% during the 12 months ending February 2018, so the market size continues to expand, and we are working diligently to be able to service that growth."

Beth Stavola, COO and President of MPX's U.S. operations, adds "With our fourth dispensary opening soon in the Apache Junction suburb and our expanded concentrate production facilities coming on-stream this month, we expect to see our Arizona revenues continue to expand over the next several fiscal quarters. The Arizona program is well-regulated by AZDHS, the patient count continues to grow, the supply and cost of flower and trim for re-sale and concentrate production is excellent and, while the Phoenix area market is increasingly competitive, retail prices and margins remain attractive. This is a great state for MPX to conduct business in."
Looking Forward
MPX will continue to expand with more dispensaries and greenhouses and should be an exciting company. It is in the process of executing a number of huge projects that could substantially increase production capacity.
I also expect MPX to continue expanding its dispensary locations – particularity in high-growth states Arizona and Nevada.
MPX Has Been One Of The Better Performing Cannabis Stocks In 2018
MPX saw a huge surge higher last year with the broader cannabis sector. Since then shares have fallen, but not nearly as much as other cannabis stocks.
MPX is trading about 18% below its 52-week high.
This pattern on the chart looks bullish. Shares have been consolidating into a tighter range for the last four months. I am expecting shares to move back to the 52-week high, breakout and surge higher.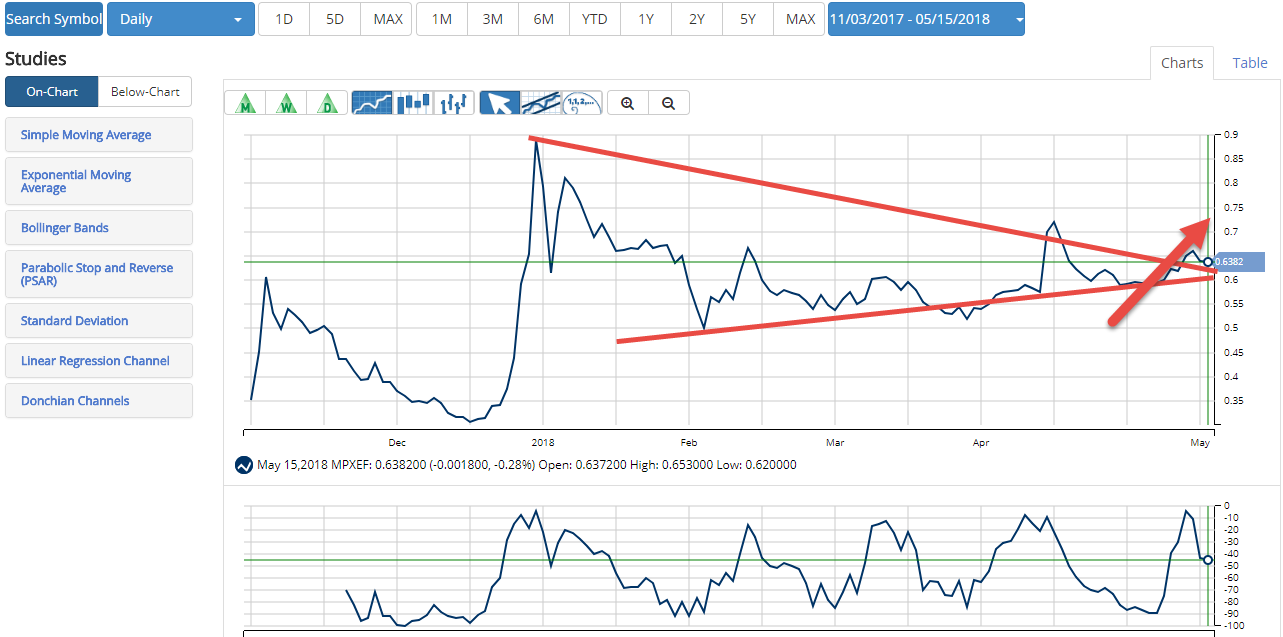 The Big Picture
US cannabis stocks are on the upswing as powerful US politicians show more support for cannabis. I expect MPX to thrive as US cannabis laws become more business friendly.
Enjoy,
The information contained in this post is for informational and educational purposes only. The trading ideas and stock selections represented on the Cannabis Stock Trades website are not tailored to your individual investment needs. Readers and members are advised to consult with their financial advisor before entering into any trade. Cannabis stocks carry a certain level of risk and we accept no responsibility for any potential losses. All trades, patterns, charts, systems, etc. discussed are for illustrative purposes only and not to be construed as specific advisory recommendations. All ideas and material presented are entirely those of the author and do not necessarily reflect those of the publisher.