Most days when I get into the office, I take 5-10 minutes to peruse some financial publications. It's not that I'm looking for stories so that I can trade the news, but instead I'm keeping an eye on anything that stands out as a good read.
Today when I was looking through Investor's Business Daily, I came across "IBD's 10 Secrets to Success." These 10 secrets could be applied to your success as a trader, but more importantly they could be applied to ensure success in your personal life. I thought I would share these 10 tips with you as they made me stop and think about my own life.
1) How You Think Is Everything - Always be positive. Think success, not failure. Beware of a negative environment.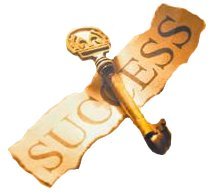 2) Decide Upon Your True Dreams & Goals - Write down your specific goals and develop a plan to reach them.
3) Take Action - Goals are nothing without action. Don't be afraid to get started. Just do it.
4) Never Stop Learning - Go back to school or read books. Get training and acquire skills.
5) Be Persistent & Work Hard - Success is a marathon, not a sprint. Never give up.
6) Learn To Analyze Details - Get all the facts, all the input. Learn from your mistakes.