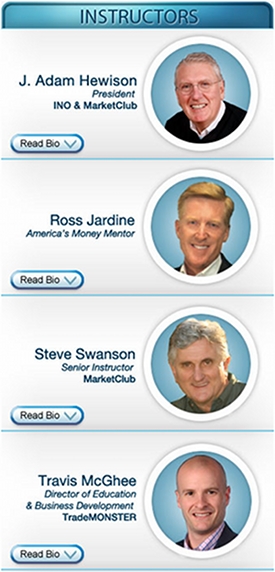 I have finally agreed to do a live event. Right now, there are a handful of seats left. I wanted to extend a summit invitation to all of our blog visitors. We're keeping the event fairly small (40 people max), to give everyone an opportunity to ask questions and learn from myself and a panel of industry professionals.
We will focus on:
How you can profit in the current volatile markets

Expert techniques to protect your existing portfolio

Strategies to control your risk on every trade you make

How to uncover trading opportunities that offer upside potential

How to generate additional returns on shares you already own…without selling!
The event is scheduled for March 27-30 at our coaching headquarters.
The first 2 days are reserved for stock talk, the following 2 days will cover options. Come for one section, or both. View session agenda.

Please accept my apologies if the event is full when you call. Ask my staff if other arrangements can be made to accommodate you in the future. To check availability, call 877-219-1482 x 10247. Be sure to ask if you qualify to bring a trading partner or spouse for free.
I look forward to meeting with you,
Adam Hewison
Co-creator, MarketClub
President, INO.com