The Fed rate decision is approaching quickly. Will the Fed choose to ignore the headline inflation figure and China's woes and decide to press on with a rate hike this month? No one really knows what they'll decide. One might conclude then, that if the Fed rate decision is a guessing game, so is the Dollar, right? Wrong! In fact, the Fed rate decision could be one of the best times to pile on to the Dollar and buy it cheap.
Fed Rate Hike Not Priced In
With all that talk of a Fed rate hike it might seem that a Fed rate hike is now priced in. But that's not the case. As the data from the CME Fed Fund futures prices, the market sees only a 25% chance for the Fed to raise rates this September. And that could explain why the Dollar Index took a dip over the past weeks.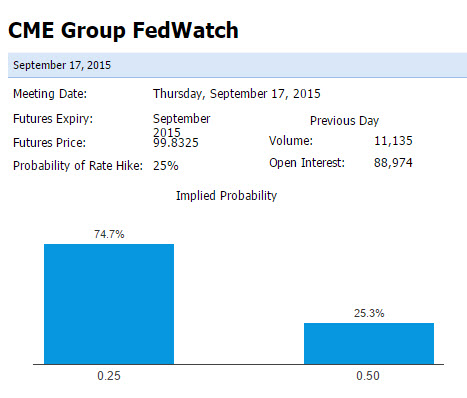 But here's where it gets really interesting. When we move forward on the calendar and examine the probability of a rate hike by December, the likelihood jumps to 59%. If we continue to move on into March 2016, that probability jumps to 77%. That means markets are almost certain that the Fed will raise rates at least once in the coming two quarters. Continue reading "Fed Rate Decision: Buy the Dollar on the Dips" →