It's already March, the first two months of the year have flown by! The NASDAQ traded over 5,000 today for the first time in 16 years and is within striking distance of its all time high of 5,048. The move has been largely fueled by Apple Inc.(NASDAQ:AAPL), which now commands an astounding valuation of 750 BILLION Dollars making it the biggest company in the world.
You may remember last Friday, I told you about one of my little rituals. At the end of the month, I look at the monthly charts to see the big trends and percentage changes for the month. I find it helps me see the big picture and the future.
That's what I do with the end of the month, here is what I do at the beginning of the month. I always say to myself "it's going to be a good month." You see, I believe in positive reinforcement and believing you can win in the markets - that is half the game in my mind, the other half is timing.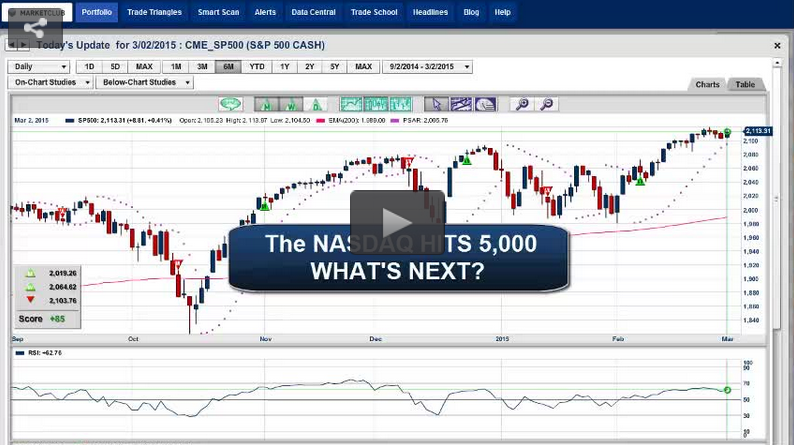 Last month, I showed you several ways on how to make money and use the Trade Triangles successfully. One way was to use the Trade Triangles to get the company earnings right and earn short-term overnight profits. This strategy has already been successfully used by quite a few members. The other strategy I showed you was the "52-week high on a Friday" rules. I hope that both of these trading strategies will serve you well in the months and years ahead. Continue reading "The NASDAQ Hits 5,000, What's Next?" →