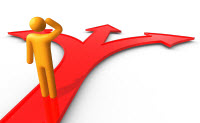 No question about it, today's market action caught many people by surprise, but it's important to understand what happened and why it happened from a technical standpoint.
As many of you who have been following my videos already know, MarketClub's "Trade Triangle" technology has been neutral on the indexes since January 20. We have also been bearish on gold since the 22nd of January. So what is happening to the markets?
The recovery in the indexes from March of '09 was basically just that, a recovery. Our Fibonacci retracement indicator was spot-on and points to a potentially more negative down move in the future. All of the indices managed to recover back over 50% of the gains before this recent downturn.
Today, I want to share some significant levels to look for during the balance of February. If these levels are broken and taken out, it would indicate a much more serious problem for the equity markets.
Here are the levels on the indices: S&P 500 key level to watch 1,029.38, NASDAQ key level to watch 2,024.27, and Dow Jones at 9,678.95.
In the case of spot gold, the key level to watch this month is 1,044.20. If the gold market goes below that level, it will signify further retrenchment for this precious metal.
Make no mistake about it, today's action is not positive for the equity markets. However, providing the levels we mentioned above hold, then you could say we're in a broad trading range and we expect the lows to be tested. I, for one, am cynical that this is going to happen.
You may also want to take a look at my recent gold and crude oil videos. Cyclically these markets are right on target and acting the way we expected them to act.
All the best,
Adam Hewison
President, INO.com
Co-creator, MarketClub