I hope that you have gained valuable insight to the markets with the "12 Days of Trading Tips" and can use some of the tips to help make 2016 your best year ever.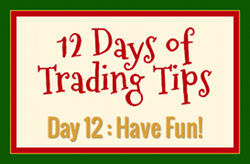 With that said, here's the last tip: Have fun!
Trading stocks can be complicated, intimidating at first and of course, stressful. But if you do your research and plan, it will be fun.
Have a safe and happy holiday season and a Merry Christmas.
Every success with MarketClub,
Adam Hewison
President, INO.com
Co-Creator, MarketClub