The CME Group is offering our visitors four free daily analysis videos from some of the top names in the investing and trading world. If you have not had a chance to sign-up, visit INO TV FREE to access your password. Access is unlimited, so visit everyday to see new analysis videos.
Here is a transcript of a recent video on INO TV. The CME Group's Managing Director of Energy & Metals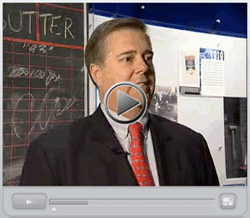 Products & Services, Joseph Raia talks about crude oil, natural gas and the world every markets. See more from Raia and more CME analysts by signing up at INO TV.
---
"When you hear the news reporters talk about the price of crude oil in the marketplace, they're generally talking about WTI, which is West Texas Intermediate crude oil. It's a very light, sweet crude oil and the highest grade that's out there. Crude oil is based on and priced on the amount of sulfur that's in the oil. It makes it easier or harder to refine base on the amount of sulfur. WTI being the lightest and sweetest, is the highest priced crude oil in the marketplace. It is a benchmark delivered in Cushing, Oklahoma...
---