Analysis originally distributed on January 11, 2017 By: Michael Vodicka of Cannabis Stock Trades
Dispensaries are staples of the cannabis industry.
This is where customers go to buy medical and recreational cannabis. Without these key players, there would be no retail outlet for cannabis consumers. After all, Wal-Mart isn't carrying anyone's favorite line of Kush. Not yet at least.
While dispensaries are important and highly visible in the distribution channel, they are also turning out to be one of the most profitable sub industries in the cannabis sector.
Dispensaries on the whole are doing well. And awesome in some cases.
According to a report from Marijuana Business Daily in mid-2016, almost 90% of cannabis dispensaries are profitable or breaking even. Take a look at the chart below.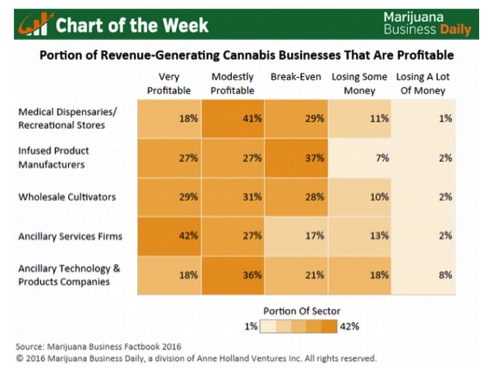 Chart courtesy of Marijuana Business Daily
What you can also see is that from the five cannabis sub-industries – dispensaries rank near the top in percent of profitable companies. Continue reading "Profit From Dispensaries With A Micro-Cap Up 218% In 12 Months" →