Here's a powerful, easy-to-use long-term trading strategy that you can use in the Forex market. This particular strategy employs the monthly Trade Triangles for both trend and timing. Unlike our short-term and intermediate-term FX strategies, the long-term approach uses a "stop and reverse" type method.
This particular strategy is far less active than both our short and intermediate-term FX strategies. This trading strategy is best suited for long-term investors who enjoy holding a position in the market for months at a time. Unlike the other strategies, this long-term strategy requires that you only enter your SAR order(s) on average once a month. This 5 minute video walks you through the actual trading signals of this strategy from 5/20/09. At the end of the video, you'll be able to see every trade and how each trade fared. Nothing has been left out, you'll see every profitable and losing trade over almost a 5 year period.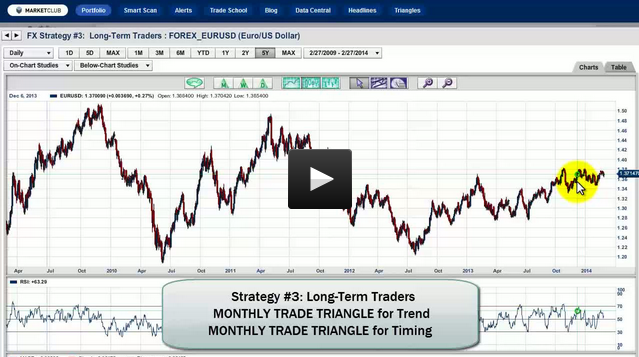 MarketClub's long-term FX strategy captures the large moves in the Forex markets in a way that is different from other trading approaches. Like any trading strategy, good money management and diversification reduces your risk and magnifies your opportunities. For any kind of trading you need to manage your losses and MarketClub's long-term FX trading strategy helps take care of that for you.
What are the pros and cons of this particular trading strategy? Continue reading "A Long-Term Strategy To Conquer The FX Market" →