When someone here at INO.com needs something, they all seem to run to Rachel. Rachel does it all and we are grateful to have her as a colleague! This month we ran to her to get her pick for our July INO Cares project.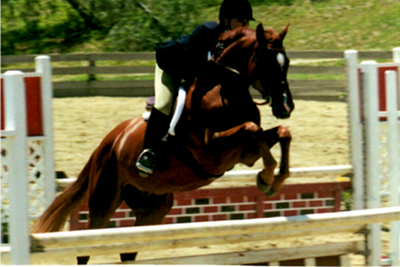 Rachel has been riding horses for over 25 years. She first fell in love with horses after her mother gave her a My Little Pony set when she was 5 years old. Throughout her life, she has trained horses, taught lessons, managed an equestrian retail shop and cared for her own horses. She has also volunteered with numerous organizations who help rescue horses as well as provide therapeutic resources for those in need through equestrian programs.
Rachel currently has a 10-year-old Dutch Warmblood named Mojave (Mo) who is pictured to the right.
For her pick, Rachel selected Maryland Therapeutic Riding (MTR) to receive a donation from INO.com in honor of our July INO Cares campaign.
MTR uses the healing and therapeutic power of horses to improve the balance, strength, muscle tone, self-image, self-confidence, and quality of life for individuals with special needs. Their riders, with challenges such as cerebral palsy, spina bifida, neuromuscular disorders, post-traumatic brain injury, emotional disabilities, autism and attention deficit disorder, use horses to experience an overall improvement in their quality of life.
Learn more about Maryland Therapeutic Riding.
If there are any causes that are important to you, tell us about them! We'd love to pick organizations nominated by our blog visitors for next year's INO Cares campaign.
Best,
Lindsay Bittinger
INO.com, Inc.