Here is a transcript excerpt for Monthly Market Studies with Dan Gramza. If you are already a INO TV Free member please use this link to sign-in. If you are not yet a INO TV Free member please use this link to register and obtain your password.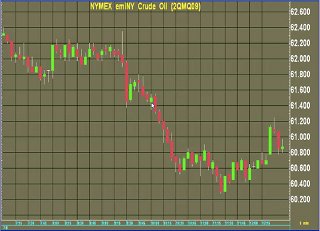 Market Studies - Technical Tip "Selling Rallies" with Dan Gramza
---
"Hello everyone, this is Dan Gramza and welcome to Gramza Market Studies Technical Tip.
Well today we're going to be talking about selling rallies. Now what does it mean when people say, "sell the rally" when you want to get into a trade? Or they sell a pull back? Or you hear things like, "The Trend Is Your Friend?"
Well we're going to explore this here in just a minute. I want to show you the technique and I want to show you some examples of how these markets behave in those settings.
Now let's talk about this set-up here…
What we're talking about are soybeans and we're looking at a five-minute chart. What we see here, the set up, is this market is trading lower and now we see evidence that buyers are coming into the market. This small green body which implies lost momentum and this big shadow on the bottom is rejecting these lower prices. Alright, if was a buyer here what I'm looking for is these buyers to carry through, right? Or what happens if this buying represents sellers who are now buying this market back to take advantage of that move? If they sold at $935 and the markets trading at $925 that would be $500 a contract. Each penny is $50, that would be 10 pennies times 50, or $500. So they starting buying to take some profit. A sign that they may be finishing, that it could be profit taking is this little guy right next to it, that red candle. That would say to us that, "hey you know that buying that was coming in. I think it's over." That's what I would look for. Plus this one candle right here kind of stays dominant over all the action that we see afterwards, and I call that a benchmark candle. So here's this down trend and here is the rally. When prices are going down that's a breaking market. When prices are moving up, that is a rally. So the idea of selling the rally… why would we want to do that? Because it implies that this buying is over. That if we trade with the trend, in this case the near-term trend, is down. It's a way for us to enter a trade after the trend has already started. You know a lot of times people feel the train has left the station without them… well here is a way to participate, to get back on that train if we see the right kind of set up.
---
To read the rest of the transcript click link.