I wrote a few weeks ago about investing in Master Limited Partnerships (MLPs) and pipeline companies, and some of the nuances involved. Starting with the fact that there ARE some major differences between MLP funds and pipeline funds, so investors need to know what they're getting.
As I stated in that article, I believe the US oil & gas boom means pipelines and energy infrastructure are going to remain in high demand for the foreseeable future – despite Hillary Clinton's Tuesday announcement of her opposition to Keystone XL. Plus, I generally regard pipelines as being a historically defensive area of the stock market, comprised of relatively steady, fee-for-service businesses. Hence, today I present a continuing analysis of a couple ways to play the midstream energy industry – whose stocks may be receiving undue punishment in the midst of the oil crash of the past 15 months.
To be clear, the midstream industry's haircut to date, while noteworthy, has not nearly so bad as the carnage in oil or the rest of the energy sector. As the graph below shows, pipeline stock prices are down about 16% since June 20, 2014, compared to nearly a 38% decline for the overall energy sector, and a 63% crash in oil prices.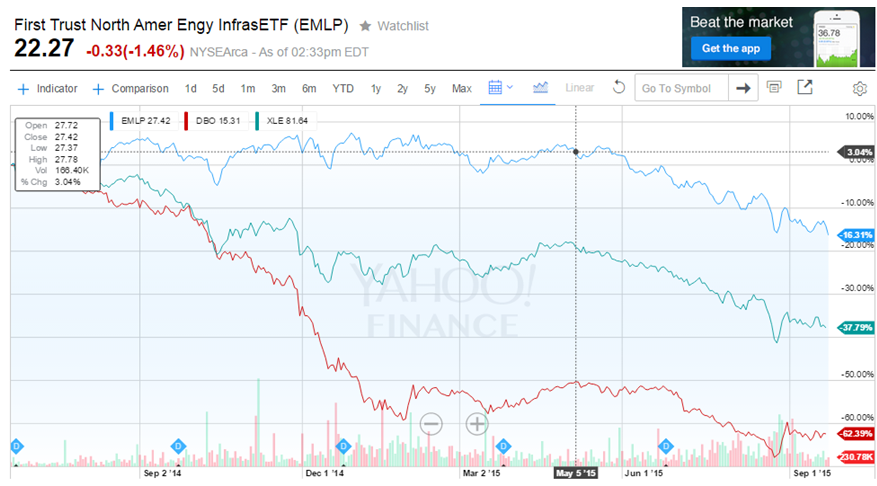 Graph from Yahoo! Finance. EMLP is First Trust North American Energy Infrastructure Fund, shown here as a proxy for pipeline stocks. XLE is the Energy Select Sector SPDR, shown here as a proxy for energy sector stocks. DBO is the PowerShares DB Oil ETF, shown here as a proxy for oil prices.
Actually, ALL the of pipeline stocks' decline in the last 15 months has come since roughly May 5th this year (shown on the graph above with a dotted vertical line), which is the date oil prices bumped up against its most recent top and began melting down again. Pipeline stock prices had been flat throughout oil's collapse for the prior 10+ months; but since that May 5th peak, pipelines (as measured by EMLP) are down 18.75%, the broad energy sector (XLE) is down 23%, and oil is down 24%. See graph below. Continue reading "Opportunities In Pipelines" →