Do not buy at the market open. There is always a pop at the market open which fades away in the first hour or so.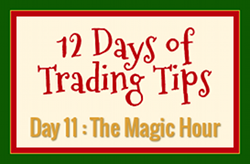 The best time to buy a stock is about 45 minutes to an hour into the market and late in the afternoon, or as I like to call it, "Magic Hour" which is after 3 pm EST before the market closes.
On the flip side, the best time to sell is at the market open or about 1 pm EST, right after lunch.
Every success with MarketClub,
Adam Hewison
President, INO.com
Co-Creator, MarketClub