There is a new video on INO TV Free from Cornelius Luca. Luca is not a new analyst, but the newest to the INO TV Free service.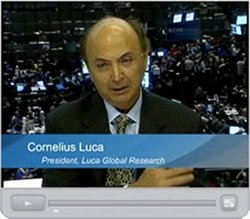 Luca obtained his M.B.A in International Business & Finance from the New York University Stern Graduate School of Business and his B.A. in International Marketing from Bernard Baruch College. Since then he has been an author, an advisor for multiple Fortune 500 companies, Vice President & Head Advisor for FX Concepts, and an instructor at the New York Institute of Finance. Luca specializes in foreign exchange and technical analysis and has traded major crosses as well as exotic currencies.
Luca is currently the President of Luca Global Research and has given a few mintues of his time to talk about some various topics for our INO TV Free visitors.
*If you HAVE been to INO TV Free Before* - Simply enter your email address and password in the box at the top right-hand corner of the screen here http://tv.ino.com/free/login
*If you're NEW to INO TV Free* - Obtain your password by visiting http://tv.ino.com/free/password
Below are some of the questions you can watch Luca talk about on INO TV Free
What indicators do you use when trading the E-micros?
I look at a whole bunch of studies. Nothing to shock you too much, but I put them together and use them in disciplined ways they help me a lot. I'm using candlesticks. On the candlesticks I'm using several moving averages, four of them to be exact, but I prefer short term, medium term, and I prefer to look at the 20-day moving average. Then, in terms of studies proper, I am using a Fast Stochastics and also a MACD. Why... see the rest of answer here: http://tv.ino.com/free/?micros Continue reading "Introducing Cornelius Luca - New Analyst on INO TV FREE" →