We've all heard about eBay (NASDAQ: EBAY), the internet auction site. But, did you know that eBay is a really great stock to trade?
In my new eBay video, I will show how to make money trading in this stock, and how it has produced stellar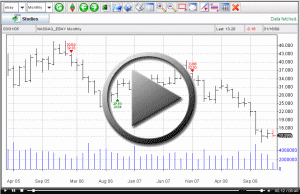 returns in the past 12 months for members following MarketClub's "Trade Triangle" signals.
The video is about eight minutes long and you'll see step by step every signal we took to produce some mighty good returns.
Now you may have bought items on eBay, or you may have sold items there... but you can make money on eBay by just trading it.
My new video shows all, is available now, and you can watch it for free. I think you'll be amazed at the opportunities that eBay presents on a regular basis.
Enjoy the video,
Adam Hewison
President, INO.com
Co-creator, MarketClub