Hello traders everywhere. It's all about corporate earnings this week vs. the geopolitical tensions of the past few weeks to a month. Gone are the talks of trade tariffs and possible conflicts as the markets turn to outstanding earnings reports from the big names in tech and the big banks.
This push higher this week has given life to the markets and helped the both the DOW and S&P 500 issue new green weekly Trade Triangles indicating that the projected long-term downtrend has moved to a sidelines position based on the Chart Analysis Scores. We will now turn our attention to the next major hurdle and that's the issuance of new green monthly Trade Triangles for both indexes.
As for the NASDAQ, it too issued a new green weekly Trade Triangle signaling that the long-term trend has resumed and is looking to head higher based on a strong Chart Analysis Score of +100.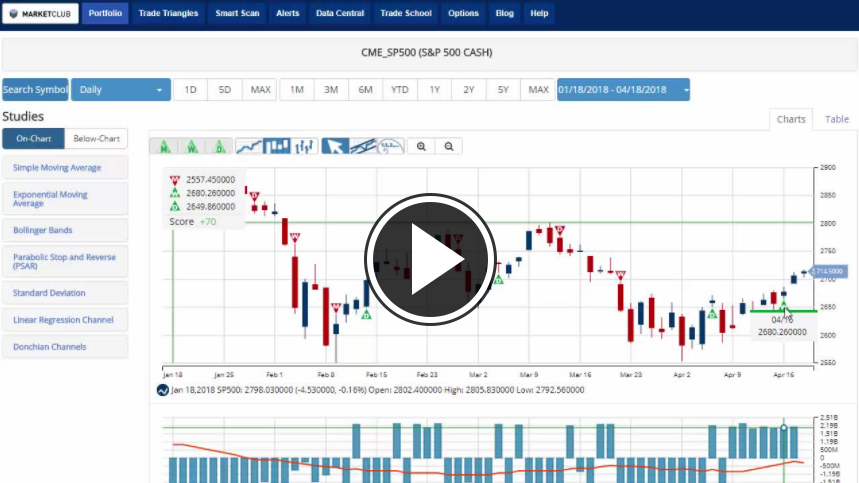 Crude oil continues higher hitting a new high this month, it's the highest level since 2014. The reason for the gains today is an Energy Information Administration (EIA) report that showed shrinking American petroleum surpluses and the first crude withdrawal from the largest U.S. storage complex in six weeks. The U.S. draw-downs underlined optimism that an OPEC-led effort to curb global supplies will be reinforced later this week when the cartel and allied producers gather in Saudi Arabia. Continue reading "It's All About Corporate Earnings" →